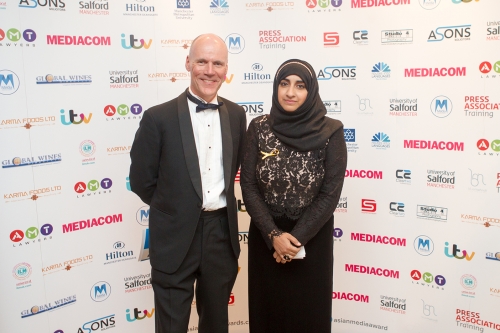 The Asian Media Awards 2014 supported the Alan Henning Memorial Fund.
Founded by Shameela Islam-Zulfiqar the collection had already raised £30,000 through a series of fund-raising efforts and donations and the AMA's were keen to add to this amount.
Shameela Islam-Zulfiqar, who had travelled with Alan Henning during his work in Syria said,"This fund is dedicated to the memory of Alan Henning
"Alan was a selfless compassionate man that paid the ultimate price- to help the destitute and poor that were less fortunate than him.
"After seeking permission from Alan's widow Barbara, we have decided to set up a fund in memory of Alan for his children Adam and Lucy. We want them to know that their father's death was not in vain and that the work that Alan was so committed to will also continue.
"A project will also be set up in Alan's name eventually to benefit those that Alan died trying to help in Syria to ensure his legacy continues long after he was taken from us."
The fund was supported by the International Learning Movement (ILM). Martin Kemp head of Communications said, "We are delighted to be supporting this worthwhile cause.
"All the proceeds we have raised will be handed over to the Fund."
The Asian Media Awards were held at the Hilton Manchester Deansgate on Tuesday October 28 and were sponsored by the University of Salford and Asons Solicitors.
The event was hosted by Manish Bhasin from the BBC and Sam Ali Khan of ITV Central.
Event partners included ITV, MediaCom and Press Association Training.
Photo by Saty Singh – Studio 4 Photography
Media