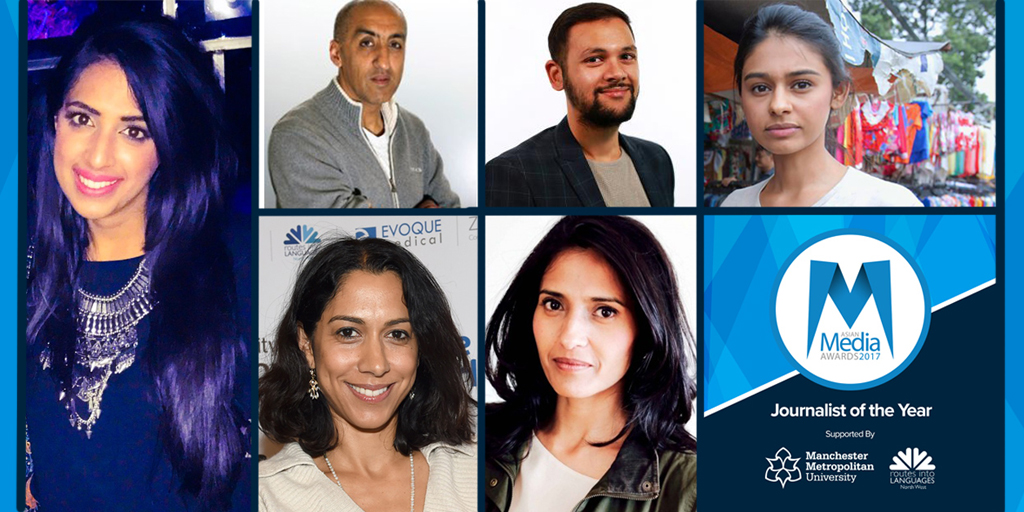 Here we take a look at the 2017 Journalist of the Year category supported by Manchester Metropolitan University and Routes into Languages North West.
Tazeen Ahmad – Broadcaster, Journalist and Writer
Tazeen is a Bafta-nominated broadcaster, journalist and writer who has presented and reported for programmes across radio and television for over 17 years. In recent years she has worked as a foreign correspondent for NBC News in America and in the UK alongside Dispatches on Channel 4. She has specialised in high profile long-form investigative reporting spending several years in news, consumer and factual features before that.  In the qualifying period Tazeen has been at the forefront of highlighting a wide range of issues from across the UK and the world. In Britain's Cheap Clothes she reported on a special investigation which exposed the poor conditions in clothes factories and how outfits made there were finding their way on to the high street. Tazeen also went undercover to investigate the impact that some cruise ships could be having on the environment and public health, including pollution that some passengers could be exposed to. In addition to this Tazeen has been keen to support a number of human rights causes and events and has spoken widely on the subject.
Tufayel Ahmed – Culture Reporter, Newsweek
Since joining Newsweek, Tufayel has reported on a number of exclusive entertainment and celebrity pieces. He has also looked to champion a vast range of Bollywood and Indian entertainment for audiences who may not be aware of its cultural impact. In the past year Tufayel ran an exclusive interview with the cast of The Grand Tour and Amazon executive Jay Marine. He produced interviews and features about John Legend, Stranger Things and Dany Garcia, The Rock's manager and ex-wife. He has also looked to champion a vast range of Bollywood and Indian entertainment for audiences who may not be aware of its cultural impact. He conducted a feature interview with Viceroy's House director Gurinder Chadha which was not only published nationwide, but across Europe and in Asia.
Shekhar Bhatia – Senior Staff Reporter, DailyMail.com
Shekhar Bhatia is a senior reporter and journalist and has reported on the some of the world's most notable news stories of recent times. Formerly of the Evening Standard, Shekhar now produces informative and investigative content for the Daily Mail US. When President Trump fired his White House spokesman Anthony Scaramucci after only nine days, he disappeared and could not be found but was tracked down by Shekhar who penned the story and dictated the headline 'The Last Supper.' He wrote exclusive pieces on the London Borough Market terror attack; the United Airlines flight video; a piece about a Sikh man who was shot outside his home by a gunman shouting 'Go back to your own country' and Trump's travel ban on those from majority Muslim countries. In addition to this he produced exclusive pieces on Prince Harry, the Rio Olympics and interviews with the family of Anni Dewani.
Tanveer Mann – News Reporter, Metro
Tanveer Man is a news reporter with the Metro and the youngest person in the Journalist of the Year category. She began her work experience as an editorial assistant at the Asian Voice before going on to gain work experience at the Sutton Comet, PA, BBC News, the Daily Mail, the Sunday Times and the Daily Star. She began working at the Metro in October 2015. Tanveer covers daily news and reports from across the UK and London. She has amongst other stories highlighted how Google won't answer a woman who wants 'wheelchair friendly maps'; reported on a teen who lost everything in the Grenfell Tower fire but still turned up to her GCSE exams in night clothes and reported on a daughter who shared her mother's horrific injuries after setting up a secret camera at a care home. She wrote of how a Sikh man struggled to come out and how a man who runs a polygamy website claimed he was 'keeping his family together.' In addition to this Tanveer is also a talented travel writer who has penned a number of related features.
Nelufar Hedayat – Broadcast Journalist
Nelufar has produced a number of high-profile investigative features for a range of international media outlets. A former presenter of BBC Newsround, Nelufar has chosen to focus on covering cultural movements and conflicts affecting women, children and families across the world. Nelufar has worked across the BBC, The Guardian and for Channel 4. Joining Channel 4's flagship foreign affairs series, Unreported World as a reporter in 2014, Nelufar led a high impact investigation into the illicit dog meat trade in Vietnam. In her landmark series, 'The Traffickers,' Nelufar traced global networks of illicit trade from consumer to source, showing viewers how they are often unwittingly complicit in murky black markets around the world. She exposed the complicated truth behind the illegal trafficking of commodities as diverse as babies, human organs, exotic animals and women trafficked into the sex industry.  In order to make this ambitious series, Nelufar herself travelled to twenty-two countries across the globe. The series was shown in the UK via the Fusion app and available to view on iTunes and Amazon.
Kavita Puri – Producer and Editor
Kavita Puri is an award winning producer and journalist who in the past year produced a landmark three-part series for Radio 4 'Partition Voices' which recorded the first-hand testimony of those who lived through partition. These accounts will be archived with the British Library. Kavita oversaw the coverage for BBC News of the 70th anniversary of Independence of India and Pakistan, which included executive producing an hour-long Newsnight special from the BBC Radio Theatre 'Partition at 70'. She wrote a number of pieces on the subject including articles and blogs in the Guardian and the Times and Asian Culture Vulture. As editor of Our World she has aimed to highlight the under-reported stories across the globe. She commissioned and executive produced documentaries such as 'Starving Yemen.' The shocking documentary which went out on the BBC's Ten o'clock News and contributed to a DEC appeal a few months later, and the study was extensively quoted at the UN Security Council.
---
This year's Asian Media Awards returns to the Hilton Manchester Deansgate on Wednesday October 25 2017.
Previous recipients of an Asian Media Award include Krishnan Guru-Murthy, Waris Hussein, Art Malik, Mehdi Hasan, Nina Wadia and Anita Anand.
The University of Salford are premier sponsors and partners to the event include ITV, MediaCom, M.E.N, Press Association Training & Primesight.
The official Charity Partners for 2017 are Sightsavers.
The event is also supported by Manchester Metropolitan University, Routes Into Languages, AMT Lawyers, Hilton Manchester Deansgate, Supreme Dream Events, Payal and Cleartwo.