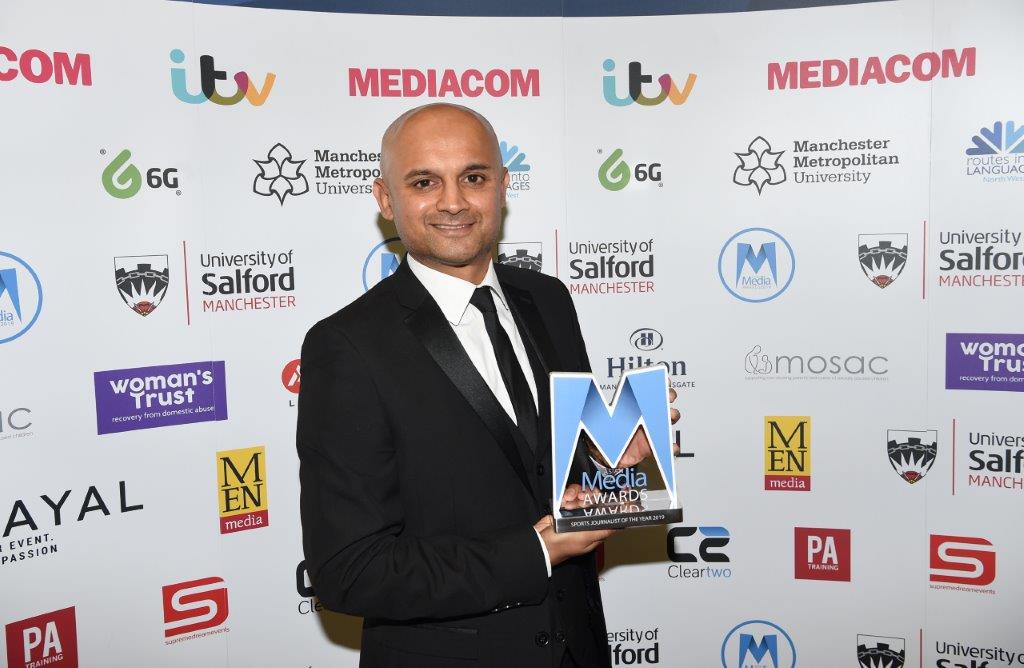 Sky Sports reporter and presenter Dharmesh Sheth was named 2019 Sports Journalist of the Year at the Asian Media Awards. The Sports Journalist of the Year category was supported by 6G Internet.
The seventh annual Asian Media Awards ceremony (October 24) at the Hilton Manchester Deansgate was attended by journalists, bloggers and media professionals from across the UK. The 2019 event was hosted by Dani Sinha of Channel 5 news.
Dharmesh was presented the honour by broadcaster Mihir Bose who congratulated the shortlisted finalists, Arif Ahmed, Nikesh Rughani and Kal Sajad.
Dharmesh said, "Congratulations to the other three nominees. I can imagine it was a hard one to decide.
"I want to thank like everyone else has done – my mum and my dad.
"When I started Sky Sports News in 1998 and I remember I was a sub-editor. Back then I came home one day and my dad says he saw me in the background. I said then that the aim was to be in front of the camera."
Dharmesh Sheth reports and presents on both Sky Sports News and Sky News. He has broken a number of exclusive stories in the past 16 months including CEO Martin Glenn's departure from the Football Association.
He has reported on some of the biggest transfer stories including David Luiz to Arsenal and Giovani Lo Celso to Tottenham. These have featured on both Sky Sports News and Sky News.
His Transfer Talk podcast has had 8m downloads and hit the top of the UK charts during the summer.
Throughout the past year he has continued to cover some of the biggest sporting events of the season including the Ryder Cup in Paris, the FA Cup Final and the Europa League Final in Baku.
---
This year's Asian Media Awards took place the Hilton Manchester Deansgate on Thursday October 24 2019.
The University of Salford were premier sponsors and partners to the event included ITV, MediaCom, M.E.N, & Press Association Training.
The official Charity Partners for 2019 were Mosac & Woman's Trust.
The event was also supported by Manchester Metropolitan University, Routes Into Languages North West, AMT Lawyers, DKR Accountants, 6G Internet, Hilton Manchester Deansgate, Supreme Dream Events, Payal Events & Cleartwo.