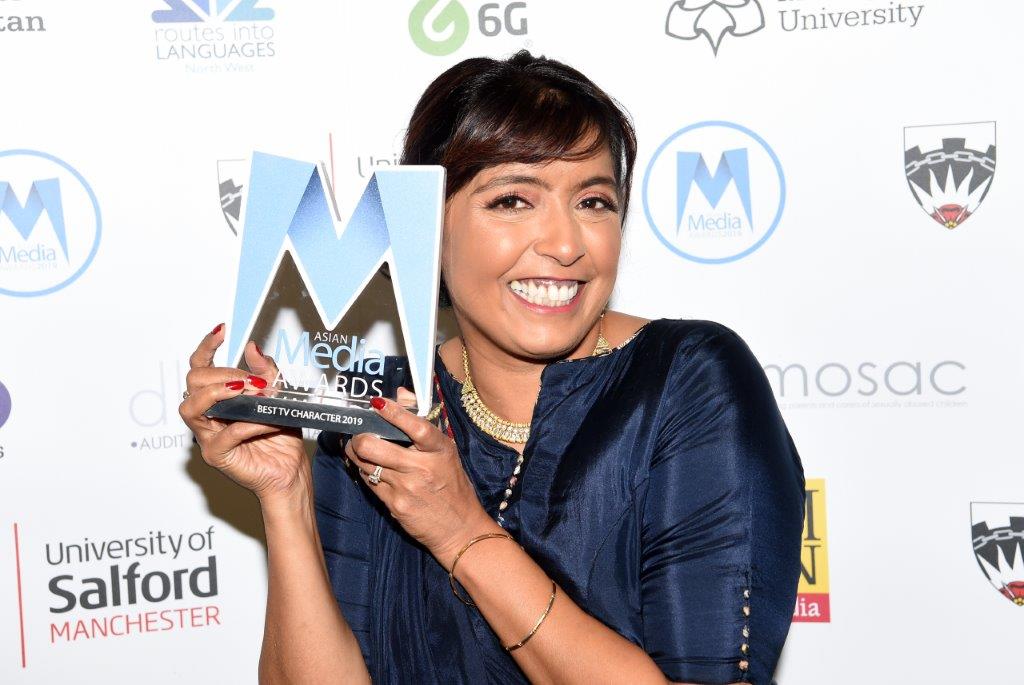 Sunetra Sarker's 'Kaneez Paracha' from Ackley Bridge was named 2019 Best TV Character at the Asian Media Awards. The Best TV Character category was supported by DKR Accountants.
The seventh University of Salford Asian Media Awards ceremony (October 24) at the Hilton Manchester Deansgate was attended by journalists, bloggers and media professionals from across the UK.  The 2019 awards were hosted by Dani Sinha of Channel 5 news.
Presenting the award on the night was Khuram Javed, partner at DKR Accountants.
Speaking on stage Sunetra said, "I have never won anything before and I couldn't be prouder than winning an award for Kaneez.
"When I first wrote the script for Kaneez, Ayub Khan Din created this amazing woman that I hadn't seen on television before.
"We all know a woman like Kaneez. We all know an auntie like Kaneez who has a great sense of humour, who is three-dimensional, who is clever even if she doesn't speak English as well as everybody else.
"I felt so privileged to be able to play that woman to represent Bradford."
Sunetra added, "She is one of the best characters of I have ever got to play. I would like to thank Channel 4, all the people who make Ackley Bridge and the actors I work alongside me, especially Amy who plays my daughter.
"Also, my amazing cheerleaders, my mum, my dad, my sister, my son, my step kids and my husband and makes me think anything is possible."
Sunetra's Kaneez is a single mum of three, a dinner lady with a sharp tongue and steadfast manner, a proud woman in the Channel 4 drama Ackley Bridge.
Having spent the first series in a battle with her husband Iqbal over the future of their daughter and coming to term with Nasreen's sexuality, series two puts Kaneez's desires in the spotlight.
Kaneez's character further develops as she finally realises she has wasted her life as an obedient wife to a man that doesn't love her and bravely takes a leap into romance.
---
This year's Asian Media Awards took place the Hilton Manchester Deansgate on Thursday October 24 2019.
The University of Salford were premier sponsors and partners to the event included ITV, MediaCom, M.E.N, & Press Association Training.
The official Charity Partners for 2019 were Mosac & Woman's Trust.
The event was also supported by Manchester Metropolitan University, Routes Into Languages North West, AMT Lawyers, DKR Accountants, 6G Internet, Hilton Manchester Deansgate, Supreme Dream Events, Payal Events & Cleartwo.