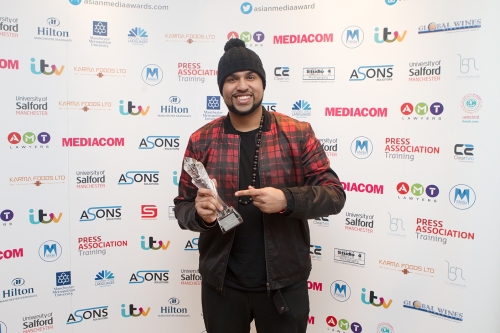 An online video phenomenon who has amassed nearly 60 million YouTube hits was presented with the 'Best Video Channel' award at the annual AMA's.
Humza Arshad of Humza Productions is world renowned for producing hilarious characters that are almost, if not more famous than some TV stars.
In only a short space of time the winner has become a global icon with his own style of Asian inspired humour.
Despite the moral message in the videos, the content has never been far from controversy. But his ability to delve into the social conscience of young people has been one of his defining features.
His videos celebrate all that is Asian, good or bad and since 2010 he has racked up almost 60 million YouTube views becoming the most viewed British comedian and the most subscribed to British Asian with over 210,000 subscribers.
Humza said: "I feel really good, and it's great to get recognised for all the hard work.
"I studied very hard and wanted to be creative and 59 million Youtube views later and I'm here.
"This is really amazing and overwhelming."
He is about to embark on his third nationwide stand up tour, Humza Arshad continues to ensure his brand of humour challenges perceptions, ideas and most of all makes people laugh.
Photo by Saty Singh – Studio 4 Photography
Media