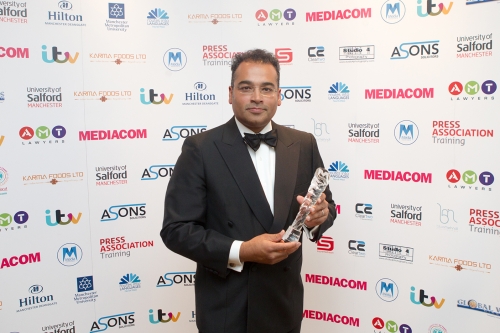 Channel 4 journalist and presenter Krishnan Guru-Murthy has been named Media Personality of the Year at the 2014 Asian Media Awards.
The second Asian Media Awards took place at the Hilton Manchester Deansgate in front of journalists, actors, presenters and marketing professionals from across the UK.
The event was hosted by Manish Bhasin from the BBC and Sam Ali Khan of ITV Central.
The AMA Media Personality award recognises an individual who through their work has been an inspiration to others in their field and maintained high standards.
Guru-Murthy has been one of the leading journalists and presenters in his field looking to investigate and report upon a range of human rights abuses across the world.
Through his work for Channel 4 in recent years he has reported on a range of historic events.
He said: "This is very nice, it's the type of award you get for still being alive!
"To be honest I was very much in the right place at the right time.
"I was set to go and study medicine and when I was 18. I managed to swing a job at the BBC and at the end of the work experience I was offered a job.
"I changed degree to politics and said yes to anything and everything I was told to do, and 26 years later here I am.
"I would just say believe you can do it.
"The key to the game is performance, confidence and being able to persuade people."
In recent years Krishnan has reported from Cairo as Egypt's military moves to oust the country's first democratically elected president, from Holland as the country grieved over the loss of hundreds of passengers on board Malaysia Flight MH17 and from the conflict zone in Gaza.
Both in the UK and across the world Guru-Murthy has been at the front line of journalism and created awareness of issues facing dispossessed communities.
Through his work as an ambassador for Channel 4's foreign affairs programme Unreported World he has aimed to highlight injustices and inequalities across some of the most deprived areas on the planet.
Krishnan Guru-Murthy began his career in 1988 on BBC2's DEF II discussion programme Open to Question and the youth current affairs programme Reportage.
He went on to present East and Network East and Newsround. During his time at the BBC he worked as a producer and reporter for Newsnight, a reporter for BBC News 24 and BBC World.
He joined Channel 4 News in 1998, aged 28, and is now the second longest serving presenter in the programme after Jon Snow.
Photo by Saty Singh – Studio 4 Photography