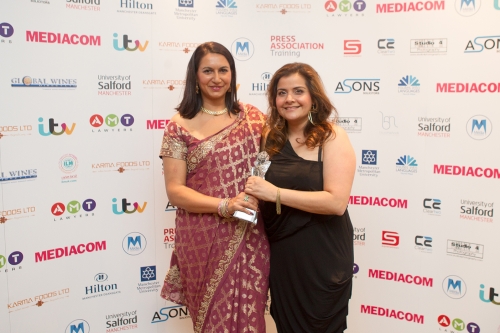 British TV and film actress Nina Wadia was honoured with the Sophiya Haque Services to British Television Award at this year's Asian Media Awards.
She was presented the award by Sophiya's sister Seyera Haque and ITV's Commissioning Editor for Entertainment, Asif Zubairy.
The second Asian Media Awards took place at the Hilton Manchester Deansgate in front of journalists, actors, presenters and marketing professionals from across the UK.
The event was hosted by Manish Bhasin from the BBC and Sam Ali Khan of ITV Central.
Nina said: "It feels fantastic to win this and especially in Sophiya's name. She was incredibly beautiful and talented with a wicked sense of humour."
Speaking of her early years she said, "I got into TV by chance. I used to write a lot and always wanted to be a writer.
"I wrote a series of sketches and on the day of the performance when the performer didn't show I was the only one who knew the lines and after I did it I was told I should be doing this and life went in a completely different direction.
"It was very hard at the start and I wanted to give up after the first 7 years but it worked out in the end."
Sayera Haque told the audience, "I'm sure Sophie would've been very happy to have this prestigious award in her name.
"Sophie was a huge fan of Nina's work especially Goodness Gracious Me when it first appeared on television.
"Sophie was a great mimic and actress and could remember dialogues and scripts very well.
"In fact at home, she'd often do the sketches from the iconic TV series.
"Sophie would've been delighted to know her name and honour are being so directly linked with such a wonderful comic actress and with such groundbreaking moments and sketches in TV history.  I'm sure she'll be chuckling away in heaven right now."
Nina said she was hoping to take to stage soon.
"I'm hoping to go into the West End next year. I've been offered a role but have to think about it as its means a lot of time away from the kids."
Nina is renowned for her role in the timeless sketch show Goodness Gracious Me.
Her many TV roles include Mrs Hussein, starring alongside David Jason in Still Open All Hours, Rupinder in All About Me, Waking the Dead, Skins and the four-part TV adaptation of Zadie Smith's novel White Teeth.
Most recently Nina was seen as Zainab Masood in Eastenders for which she won 'Best Onscreen Partnership' for her onscreen relationship with Nitin Ganatra at the British Soap Awards.
Nina has accumulated further accolades to her name including 'Best Comedy Performance' at the British Soap Awards.
On the big screen, Nina's credits include Bend It Like Beckham, I Can't Think Straight and starring alongside Rishi Kapoor in the Bollywood hit Namaste London.
As well as being a regular presenter on ITV's Loose Women, Nina has made several guest appearances in a variety of programmes including Dr Who, 2point4 Children, The Vicar of Dibley, Holby City, Doctors and Would I Lie To You.
A statement from the Asian Media Awards reads, "The Asian Media Awards is delighted this year to be recognising the achievements of someone who has played a varied number of roles on British television.
"Nina remains a unique role model to others in the media industry and through her work has been an inspiration to all communities.
"She is one of the most famous faces on British television and is also someone who has helped to define a generation by challenging ideas and pushing the boundaries of artistic licence."
Photo by Saty Singh – Studio 4 Photography
Media