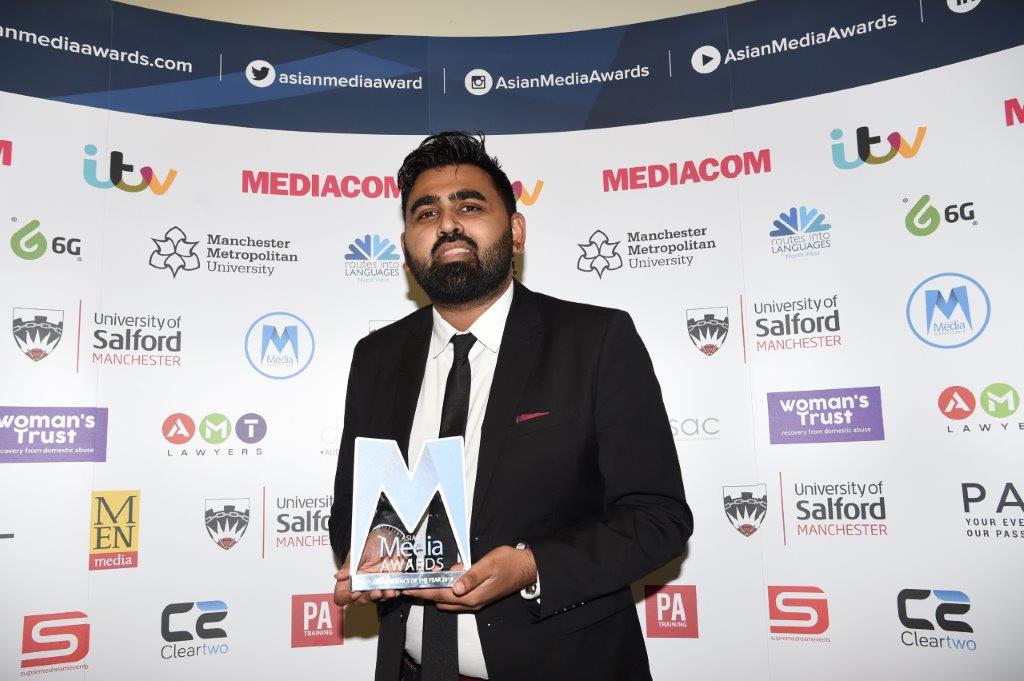 Media Hive beat off stiff competition to win the 2019 Media Agency of the Year award.
The seventh University of Salford Asian Media Awards ceremony (October 24) at the Hilton Manchester Deansgate was attended by journalists, bloggers and media professionals from across the UK.  The 2019 event was hosted by Dani Sinha of Channel 5 news.
The award was presented by actress Haiesha Mistry of Hollyoaks
Accepting the award Samir Ahmed from Media Hive said, "Thank you first and foremost to the team and everyone in the room tonight for contributing to our media industry in every way that they can.
"I have got to thank my parents because literally since I was in my teens they have supported me and pushed me along the way to pursue a career in the media industry. Without them this would not have been possible."
Media Hive is a 360º agency which delivers bespoke campaigns integrating PR, marketing, event management and digital disciplines.
In 2018/19 Media Hive worked on a range of campaigns including the launch of Disney's live action remake of Aladdin and Humza Arshad's debut novel 'Little Badman' which was published by Penguin Books.
Media Hive supported the World Cup PR launch event '100 days to go.' Their #FastForADay campaign with Barnardo's proved to be a huge success. In addition to this the team led the Madame Tussauds launch of the Virat Kohli and Priyanka Chopra waxwork figures.
The team also worked on the Asian Business Awards, the GG2 Leadership Awards, alongside the Graham Layton Trust and the compelling Victoria 200 Exhibition at Kensington Palace.
---
This year's Asian Media Awards took place the Hilton Manchester Deansgate on Thursday October 24 2019.
The University of Salford were premier sponsors and partners to the event included ITV, MediaCom, M.E.N, & Press Association Training.
The official Charity Partners for 2019 were Mosac & Woman's Trust.
The event was also supported by Manchester Metropolitan University, Routes Into Languages North West, AMT Lawyers, DKR Accountants, 6G Internet, Hilton Manchester Deansgate, Supreme Dream Events, Payal Events & Cleartwo.