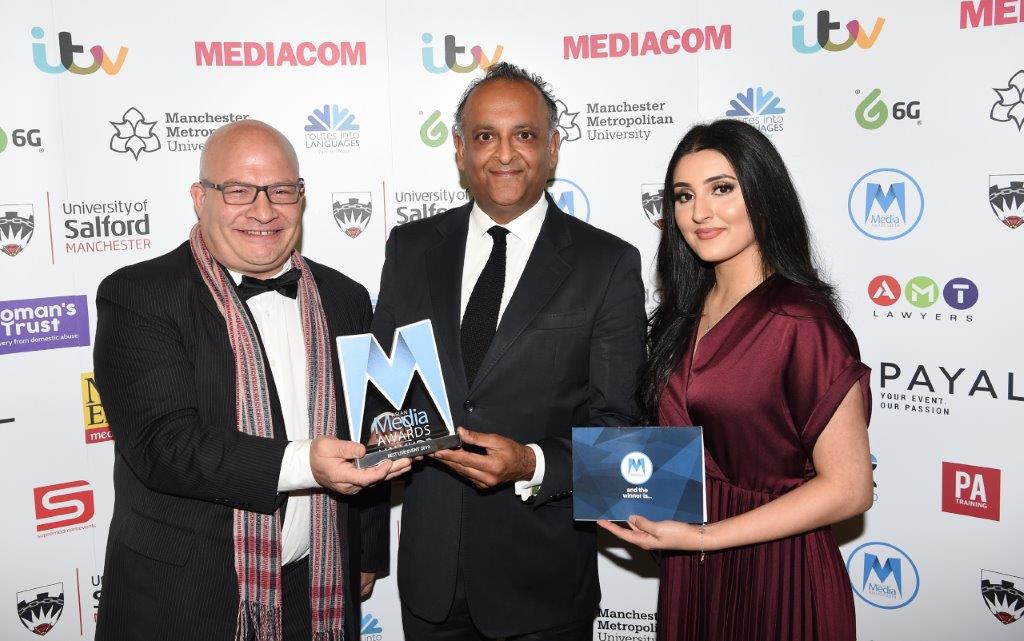 The London Mela won the Best Live Event Award at the 2019 Asian Media Awards. The Best Live Event category was supported by ITV.
The seventh University of Salford Asian Media Awards ceremony (October 24) at the Hilton Manchester Deansgate was attended by journalists, bloggers and media professionals from across the UK. The 2019 event was hosted by Dani Sinha of Channel 5 news.
The Best Live Event Award was presented by 2018 Outstanding Young Journalist winner Amani Khan.
Speaking on stage Ajay Chhabra said, "This is a surprise, thank you much Manchester., It is an honour to be making this show for 17 years. Julian and I started this show in 2003 thinking it would be a one-off event.
"Those of who understand what mela is – mela is a coming together of people and it really has a meaning and this has transpired beyond just a community event.
"Thank you to the Asian Media Awards, the judges but most of all thank you to two groups of people – each and every one of our artists and each and every one of the inter-generational audience."
In 2019 the shortlist was made up of lifestyle and fashion exhibitions, a unique collaboration between two legendary performers and an exhibition remembering the British Empire's darkest days.
Founded in 2003 by Ajay Chhabra and Julian Rudd, The London Mela is an annual show that has transformed the UK festival sector, into a more diverse, multi art-form and intergenerational festival offer.
The London Mela which is supported by Arts Council England and the Mayor of London, is now an established highlight in the capital's cultural calendar and is an artistically led celebration of South Asian culture and creativity, inspired by the Diaspora.
Critically acclaimed, The London Mela, taking place in Southall Park, features the best in classical music, British Asian urban artists, dance, comedy and cabaret, Asian-influenced street theatre, circus, and exhibitions.
To date, The London Mela has created 17 large scale finale artistic commissions, 26 mid-scale touring shows.
It has engaged with over 350 artists, 400 volunteers, and audiences of over 500,000 since its inception.
---
This year's Asian Media Awards took place the Hilton Manchester Deansgate on Thursday October 24 2019.
The University of Salford were premier sponsors and partners to the event included ITV, MediaCom, M.E.N, & Press Association Training.
The official Charity Partners for 2019 were Mosac & Woman's Trust.
The event was also supported by Manchester Metropolitan University, Routes Into Languages North West, AMT Lawyers, DKR Accountants, 6G Internet, Hilton Manchester Deansgate, Supreme Dream Events, Payal Events & Cleartwo.