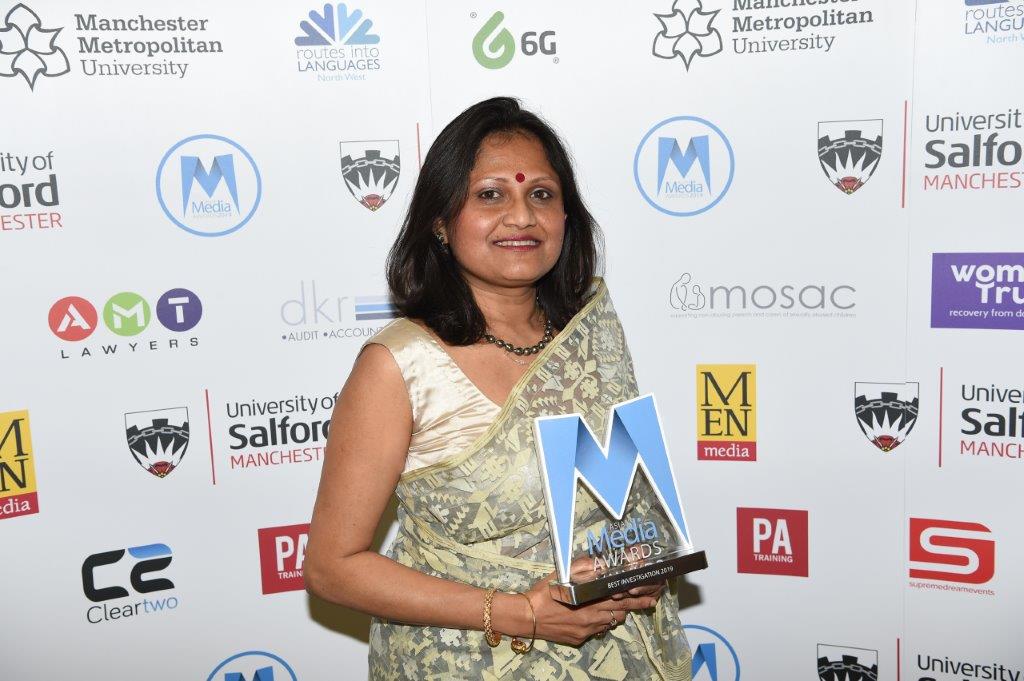 Rising Silence, a documentary film by Leesa Gazi about the Birangona women of Bangladesh won the AMA Best Investigation Award. The Best Investigation category was supported by Press Association Training.
The seventh Asian Media Awards ceremony (October 24) at the Hilton Manchester Deansgate was attended by journalists, bloggers and media professionals from across the UK.  The 2019 event was hosted by Dani Sinha of Channel 5 news.
Speaking on stage Leesa Gazi filmmaker said, "I am truly honoured today so thank you. Thank you to listening to the Birongona women of Bangladesh.
"Our film Rising Silence has nine accounts of the nine survivors. Five of them died during the post production of the film but their stories will live on
"So, thank you so much for recognising their plight and for listening to them.
"I would like to take this opportunity to express my gratitude and love for the entire production team of Rising Silence."
The award was presented by Shamim Chowdhury and Mark Wray.
Birangona is an honourific given to the women in 1971 after the Liberation War of Bangladesh, to recognise the sacrifice of more than 400,000 women who were raped and tortured by the Pakistani army and their collaborators.
The Birangona have spent much of the last 47 years rebuilding their lives and dealing with stigma, ostracisation and violence.
This film is different for the Birangona; they have been interviewed before and felt disconnected.  In this film the Birangona asked for intimacy in conversations with Leesa.  During research work for this film, Leesa travelled to different parts of Bangladesh and met more than 80 Birangona women. Four of the women died while in the post-production stages of this film.
Komola Collective is a London-based theatre and arts company dedicated to telling the stories that often go untold – stories from women's perspectives.
The Best Investigation 2019 shortlist included, Hometown by BBC Three, Hate Speech Exposed by ITV Tyne Tees, Women and the Far-right by BBC Newsnight, and Homeless and Working by Channel 4 Dispatches.
---
This year's Asian Media Awards took place the Hilton Manchester Deansgate on Thursday October 24 2019.
The University of Salford were premier sponsors and partners to the event included ITV, MediaCom, M.E.N, & Press Association Training.
The official Charity Partners for 2019 were Mosac & Woman's Trust.
The event was also supported by Manchester Metropolitan University, Routes Into Languages North West, AMT Lawyers, DKR Accountants, 6G Internet, Hilton Manchester Deansgate, Supreme Dream Events, Payal Events & Cleartwo.