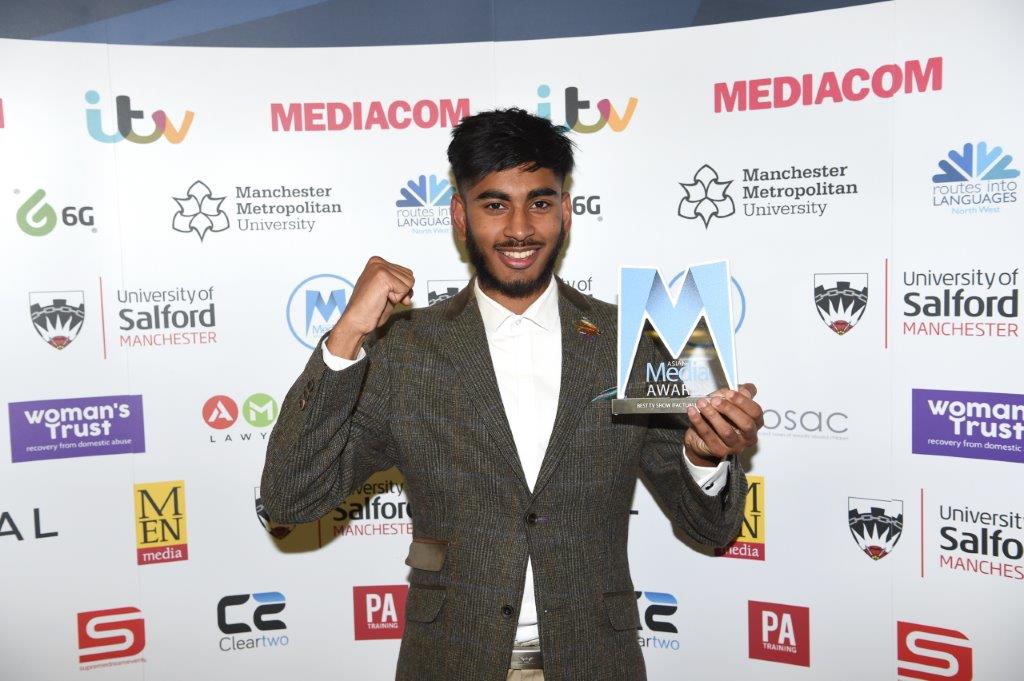 Akram Khan's documentary 'The Curry House Kid' was named Best Factual Programme at the 2019 Asian Media Awards. The Best Factual Programme category was supported by the University of Salford.
The seventh University of Salford Asian Media Awards ceremony (October 24) at the Hilton Manchester Deansgate was attended by journalists, bloggers and media professionals from across the UK.  The 2019 awards were hosted by Dani Sinha of Channel 5 news.
The 2019 award was presented by judging panel member, Annabelle Waller, Associate Dean at the University of Salford.
Speaking on stage Sharul Khan who worked on The Curry House Kid said, "We worked really hard on this project and we are so proud to tell the story of British Bangladeshis in the way that we did."
A statement from Swan Films read, "We're proud and honoured to receive the Asian Media Award for The Curry House Kid. It was a privilege working with Akram Khan on a story that was at once so intensely personal, and that resonated so widely."
Presented by Akram Khan for Channel 4 and filmed, produced and directed by Nick Poyntz (Swan Films) was a moving story of the lives of those growing up in the curry houses that help build Britain.
Akram Khan's father was one of thousands who helped to run curry houses across the length and breadth of the UK.
He had expected his son to follow in his footsteps. Akram had other ideas: he wanted to dance.
Now he's one of the world's leading dancers and choreographers. Here Akram returns to the curry houses of his childhood, meeting the chefs who created this culinary institution in the face of hostility and often, violent racism.
---
This year's Asian Media Awards took place the Hilton Manchester Deansgate on Thursday October 24 2019.
The University of Salford were premier sponsors and partners to the event included ITV, MediaCom, M.E.N, & Press Association Training.
The official Charity Partners for 2019 were Mosac & Woman's Trust.
The event was also supported by Manchester Metropolitan University, Routes Into Languages North West, AMT Lawyers, DKR Accountants, 6G Internet, Hilton Manchester Deansgate, Supreme Dream Events, Payal Events & Cleartwo.