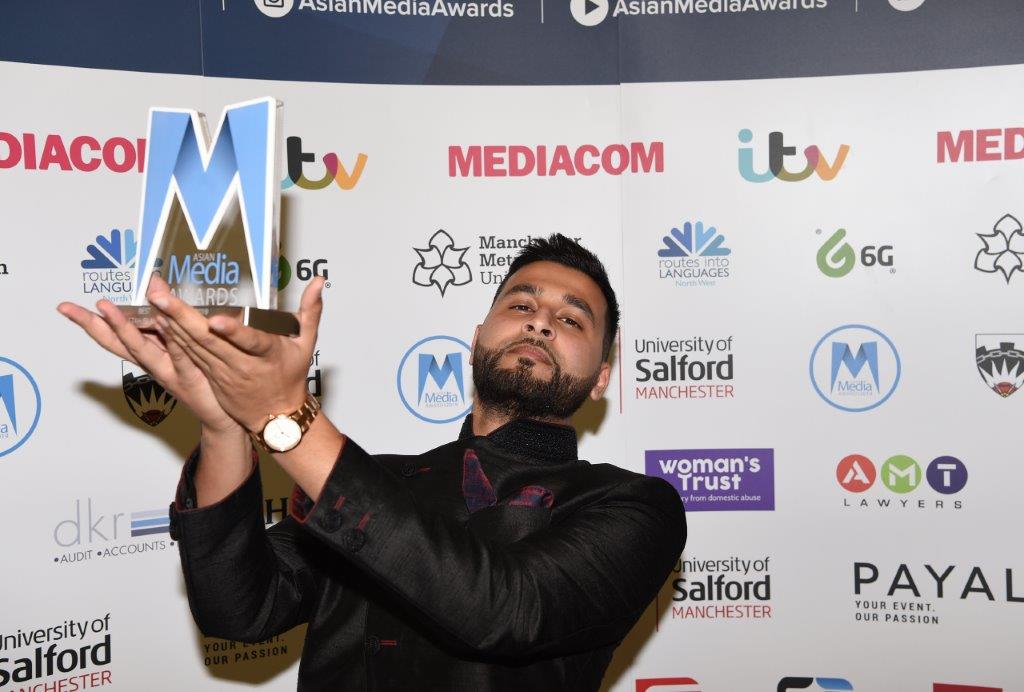 An actor and filmmaker who shot to fame with his own comedy series the 'Corner Shop Show' won the Best Video Channel 2019.
The seventh Asian Media Awards ceremony (October 24) at the Hilton Manchester Deansgate was attended by journalists, bloggers and media professionals from across the UK.  The 2019 event was hosted by Dani Sinha of Channel 5 news.
Islah Abdur-Rahman also known as 'Mistah Islah' directed, starred and wrote episodes of the online show introducing a range of comedic talent to the world.
He said, "I feel overwhelmed that my hard work has been given this recognition, I couldn't have done it without my team. I'm still that boy from South London with a dream and it's milestones like this that make it all worth it!"
Corner Shop Show was launched on YouTube in 2013 with no budget. As the series grew so did his team, and the story about a young man left in charge of his father's local corner shop gained a huge cult following.
The series has since addressed issues on gentrification, knife crime, family values, giving to charity and subjects not only Asians are able to relate to.
The series popularity stemmed from its originality, the range of characters and the stream of social influencers and celebrities who made cameo appearances. Whilst many other YouTubers were producing their own brand of short quirky videos, Islah's writing and production value stood it apart.
Islah said, "I always felt that people of my background were under-represented so I took it upon myself to do so.
"I never had the means to pitch to mainstream channels so at the age of 21, I began directing my own comedy series called 'Mandem On The Wall' which elevated onto E4 and then I built my platform further and wrote, directed and starred in the British South Asian based comedy series 'Corner Shop Show.'
Islah added, "From the success of Corner Shop Show it allowed me to perform on stages in character for several youth and comedy events, touring the UK and addressing issues such as anti-terrorism and mental health. I was fortunate enough to be able to perform at Hackney Empire for the biggest Mental Health Awareness Festival of the year in 2018."
Islah went on to develop a 12-week course for young people in schools on how to discover and develop their skills in media.
A Corner Shop UK tour soon followed and Islah decided then to raise money for a charity run by his family, The Al-Ansari Foundation, helping orphans in Zanzibar. The journey, assisting people in need, was documented and shared on his YouTube channel.
His success led him to co-star and co-write the UK's first Muslim Pantomime show for Penny Appeal which has been featured across mainstream news and media channels in the past two years.
After six years the Corner Shop series came to an end and the final episode was a feature length independent film entitled 'Corner Shop: Thank You, Come Again'.
The future sees the re-branded 'The CS Network' managed by Islah and his team, as a company to produce more original series online and be a platform to diversity in the media.
---
This year's Asian Media Awards took place the Hilton Manchester Deansgate on Thursday October 24 2019.
The University of Salford were premier sponsors and partners to the event included ITV, MediaCom, M.E.N, & Press Association Training.
The official Charity Partners for 2019 were Mosac & Woman's Trust.
The event was also supported by Manchester Metropolitan University, Routes Into Languages North West, AMT Lawyers, DKR Accountants, 6G Internet, Hilton Manchester Deansgate, Supreme Dream Events, Payal Events & Cleartwo.