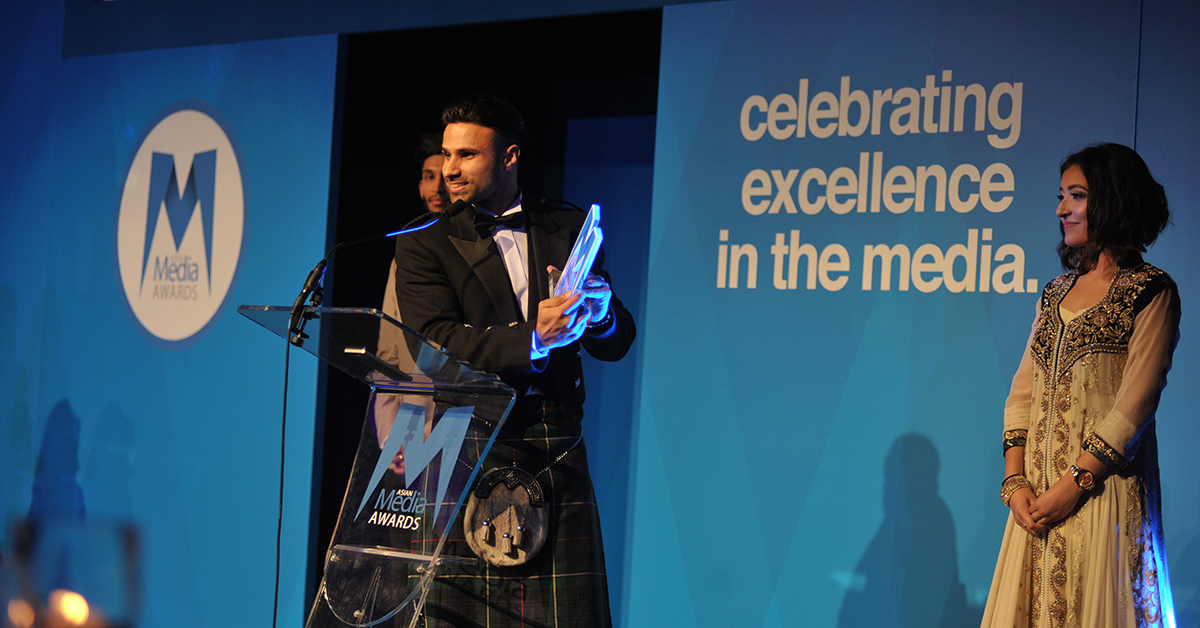 Glasgow based online video sensation Rahim Pardesi was named the Best Video Channel at the 2016 Asian Media Awards.
He was presented the award by 2015 winner Parle Patel at the University of Salford sponsored event held at the Manchester Hilton Deansgate.
Rahim Amer stars in the Rahim Pardesi series and has already managed to garner a huge following across the globe.
His productions, featuring only a handful of characters (male and female) mostly played by Rahim himself, have become overnight sensations.
He has racked up millions of YouTube hits as well as millions more on social media.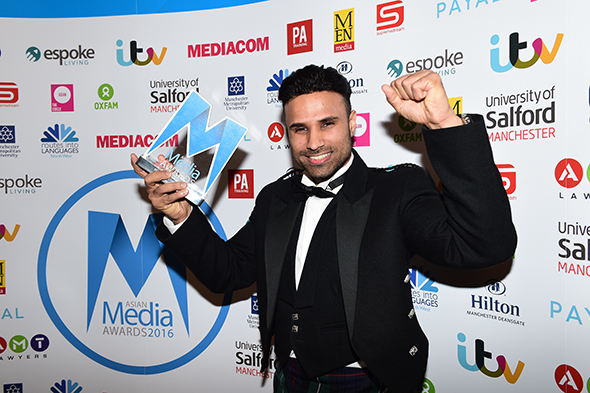 He accepted the award in typical comedic fashion greeting the audience in Punjabi with a colleague translating the words into English.
He was though keen to thank members of his team.
Earlier he told the awards how he wasn't expecting the success when he uploaded the first video.
"My family found them very amusing and thoroughly enjoyed them.  They encouraged me to share them on Facebook as they were already sharing them with their friends.
"I was pleasantly surprised at how quickly the popularity of the videos escalated."
But it is his following not only in the UK but across the world and in particular in South Asia that continues to inspire him.
"I am a Scottish Pakistani who spent a few years in Pakistan in my early years which is where I managed to grasp the language and culture so well.
"I have my own production company and have always been interested in producing videos.
"My passion however lies in acting. I would like to pursue other acting opportunities in future."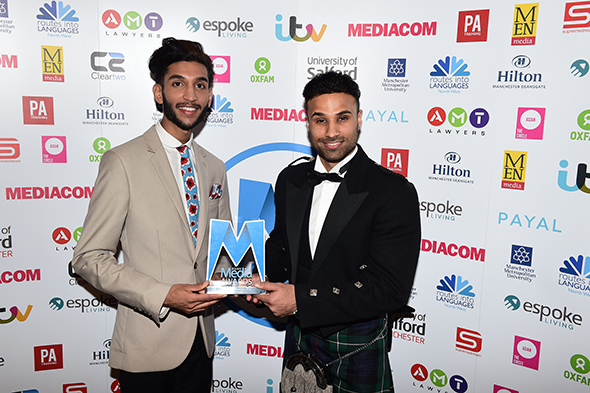 Rahim's rise to fame is matched by his need to continually evaluate his work. He added, "I think vloggers can be influential, depending on their audience.
"Whether you want to or not, once you have an audience, many of them look at you as a role model and you need to be a bit more conscious of the content you produce."
His videos have tended to steer clear from profanities and bad language – something Rahim was always keen to implement. "My team and I decided very early on that we would not broach certain sensitive subjects.
"We do our best not to offend but you will always get a certain person who will take it far too seriously. Our intention is to make people laugh."
---
The University of Salford are premier sponsors to the 2016 events and partners include ITV, MediaCom, Press Association Training and the Manchester Evening News.
The official charity partners for 2016 are The Asian Circle and Oxfam.
The Asian Media Awards 2016 are supported by Hilton Manchester Deansgate, Manchester Metropolitan University, Routes into Languages, AMT Lawyers, Espoke Living, Supreme Dream Events, Cleartwo & Payal.
For further information please e-mail umbreen@asianmediaawards.com.