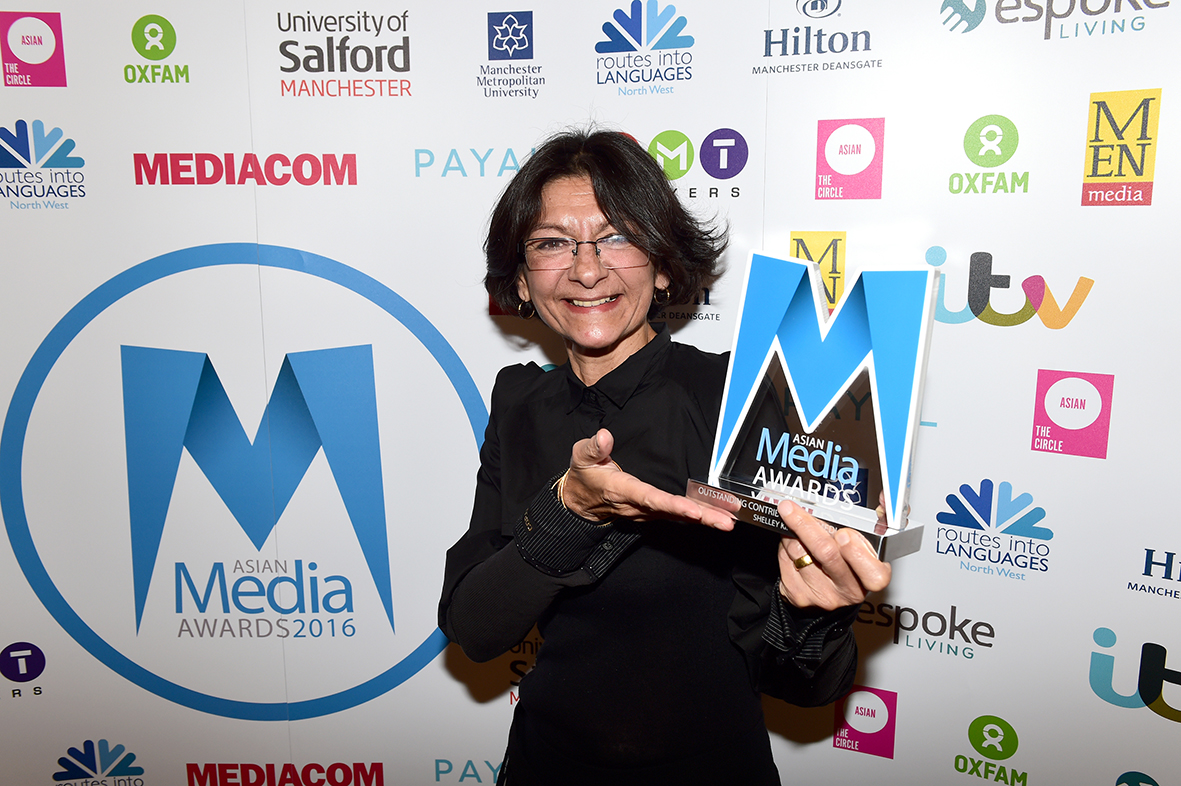 Coronation Street actress Shelley King was presented with the Outstanding Contribution to Media honour at this year's Asian Media Awards.
Presently, seen in the ITV soap, Shelley King has appeared in some of the UK's favourite dramas and stage productions. The award came 50 years after the aspiring actress travelled to the UK from India in 1966.
The AMA's recognise excellence in the media with categories in journalism, online, radio, television and marketing. The awards are now in their fourth year and are sponsored by the University of Salford.
This year's event took place at the Hilton Manchester Deansgate.
She said on the night, "It may be my award but I owe this award to many other people.
"I think we should help one another.
"If there is one thing..sadness that I have about this business and Asians in this business is that sometimes we don't support each other. Because we have all had to fight to get there and be recognised.
"Sometimes we don't support each other as much as we should and I think if we do we are a force to be reckoned with and a force that will not be stopped."
Born in Calcutta, Shelley spent eleven years in the city with an eclectic upbringing.
A student at a French school in India, she grew up watching and being mesmerised by West Side Story, Frank Sinatra, South Pacific and Ben-Hur, making her determined to become an actress.
Having moved to the UK in 1966, as a young Anglo Indian girl, Shelley reveals she was bullied on account of her background at her private school in Wimbledon.
In a school census, Shelley even wrote that she was born in England rather than India to avoid facing taunts.
In a bid to pursue her acting career, Shelley auditioned for the Royal Academy of Dramatic Art, only to be told that this was a difficult profession for her and that if she sought work as an actress, she should go back to India.
Not deterred by these words, Shelley trained at another drama school, The Webber Douglas Academy of Dramatic Art, the drama school she says that tried to fathom the complications of her ethnicity.
Shelley said, "True colour blind casting occurred in the early noughties. But I feel today it's a regressive movement.
"Between 1982 and 1987, several of the characters I played on TV had the surname Patel.
"Yet for Tandoor Nights I had to have a sun bed!
"The British Asian community need to support each other. After all, no-one else is going to help us.
"Acting is a hard business. And there are opportunities today that simply weren't available in the sixties and seventies.
"Whether you are acting on stage or on TV, it means flexing a different muscle and employing a different expertise.
"I began in a soap in 1977. And my trajectory sees me back in a soap today."
In November 1977, Shelley was cast as a regular in the BBC TV carbolic soap opera 'Angels' in which she played Jay Harper, an orphan with brown skin and no knowledge of her heritage.
Shelley was granted an Equity card immediately because it was accepted that there was no other card holding mixed race actor in the Union which at the time was a powerful closed shop.
The first half until 1986 was dominated by television.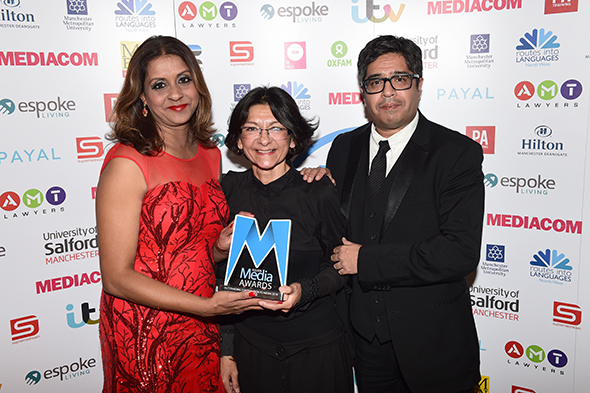 Shelley reveals that Asian women, some of mixed race, damaged, privileged, frustrated, angry were all trying to find a voice and an identity in Britain.
There were many marches to Broadcasting House by a spectrum of protesters all of whom had ideas about the way in which these characters should be portrayed on television, insistent that a fairy tale approach was best.
A return to the theatre for Shelley was imminent.
In the 1990s Shelley joined The National with their British Asian production of Moliere's 'Tartuffe' which was to tour nationwide and worldwide.
Scheduled to tour for eleven weeks with a nine week slot at the Cottesloe, it ended two years later at The Lyttleton having returned twice to the Cottesloe and having visited theatres in Spain, Turkey, Australia, Hong Kong and Japan to great acclaim.
Next up at the National was a production of the Sanskrit drama 'A Little Clay Cart'.
Highlights during this time saw work with The Actors Touring Company, Tara Arts, The Royal Court, Manchester Contact, The Globe, The Wolsey Ipswich and a return to the NT.
Shelley returned to TV in the BBC's A Secret Slave which investigated the lives of women transported as luggage to work for the Saudi aristocracy and a truly enjoyable adventure for children 'See How they Run' shot in England and Australia in which she got to play a truly nasty villain.
Shelley also acted in Tandoori Nights, Holby City, The Jewel in the Crown, King of the Ghetto and Banglatown Banquet.
The noughties saw Shelley return to the theatre in Andrew Lloyd Webber's Bombay Dreams.
This led to a long association with Kali Theatre, the company dedicated to the production, support and encouragement of new writing for theatre by British Asian Women – with Gurpreet Kaur Bhatti through her first play 'Besharam' at The Soho Theatre and then with her second 'Behzti' at the Birmingham Rep.
Janet Steel became Artistic Director of Kali Theatre, taking it to new levels of achievement establishing Kali as a force for the support of new writing and gaining annual funding from the Arts Council.
Shelley was voted Kali's chair opened the first major Talk Back Festival celebrating the work of female British Asian playwrights at the Soho Theatre.
This began with a full production in the main house, two studio productions and rehearsed readings.
Shelley went on to appear on TV in 'The Bill' (ITV), Radio Mr Anwar's Farewell to Stornaway (BBC Radio 4) and film ' Rafta, Rafta.
---
The University of Salford are premier sponsors to the 2016 events and partners include ITV, MediaCom, Press Association Training and the Manchester Evening News.
The official charity partners for 2016 are The Asian Circle and Oxfam.
The Asian Media Awards 2016 are supported by Hilton Manchester Deansgate, Manchester Metropolitan University, Routes into Languages, AMT Lawyers, Espoke Living, Supreme Dream Events, Cleartwo & Payal.
For further information please e-mail umbreen@asianmediaawards.com.