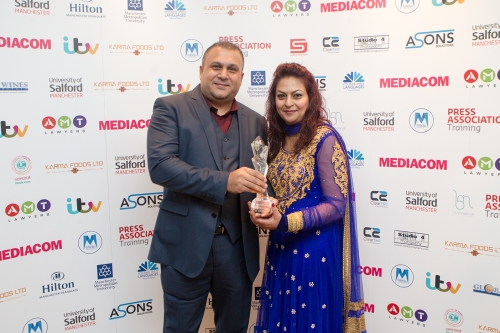 Asian Star Radio was awarded Regional Radio Station of the Year at the second Asian Media Awards.
This was the consecutive year that the station was presented with the accolade.
The regional radio station based in Slough provides a range of high profile entertainment shows with a mixture of Bollywood, British Asian Bhangra and Asian pop music.
Station manager, Sbba Siddique said,
"It's absolutely amazing to win this for the second year in a row.
"It gives us so much confidence, the work that we do in the community, on a regional level is recognised.
"And that the work we do with our volunteers and our trainees is acknowledged in providing a platform for people who wouldn't necessarily get a look in on other commercial or national stations.
"We build bridges with the community. Our remit and priority is our listeners and the community that we serve.
"Let's hope to make this win a hattrick!"
Director of Asian Star Radio, Ray Siddique said,
"We have going strong for 8 years now. We work on grassroots levels. We reach listeners on a level that some of the bigger radio stations cannot penetrate
"We work with many charitable groups and organisations which I suppose helps us to come in the forefront of people's eyes."
The Asian Media Awards were held at the Hilton Manchester Deansgate and were sponsored by the University of Salford and Asons Solicitors.
The event was hosted by Manish Bhasin from the BBC and Sam Ali Khan of ITV Central, showcased the very best talent working in the Asian media industry and those working in the mainstream media.
Photo by Saty Singh – Studio 4 Photography
Media