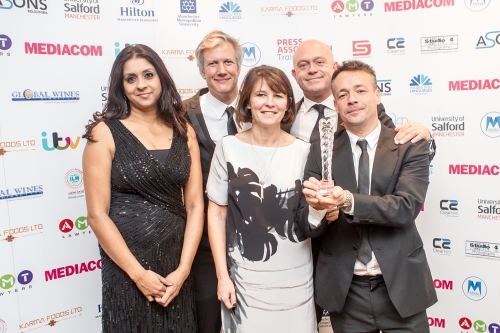 An investigation in child-trafficking in India was chosen as the Best Investigation at the Asian Media Awards 2014.
The 2014 Asian Media Awards took place at the Hilton Manchester Deansgate in front of journalists, actors, presenters and marketing professionals from across the world.
The event was hosted by Manish Bhasin from the BBC and Sam Ali Khan of ITV Central.
As well as rewarding new and emerging talent, the awards recognised the achievements of the pioneers within the media industry.
The Best Investigation category again featured some of the most compelling work in the past year.
The programme was aired earlier in 2014 and investigated the sex-trafficking industry, where girls and young women go missing every year and are forced into a life of prostitution in India's major cities.
Kemp said: "It's a real honour for me be nominated for a Sky programme. To have won an award is a big thing.
"It's not just me. My team played a big part. We all wanted to find out what was going on. What we found will stay with me for the rest of my life.
"The UK has got lots of questions when it comes to slavery but what we saw in India where 10 per cent of the population are involved in slavery in one form or another is staggering. Even after the abolition of slavery we have more slaves now then we have ever seen before.
"I'm going to cherish this award given to me by the Asian community. Thank you to the Asian community for showing their support.
"I believe in intelligence, bravery and sometimes breaking the rules to get the story."
Presenter Ross Kemp went in search of the kidnappers and also examined the plight of victims, their families as well as investigating the work of authorities. The harrowing, and at times emotional   piece culminates with Kemp speaking to a man who claims to have kidnapped and killed thousands of
Finalists this year included,  'A Family Without A Child' by Sangita Myska aired on Radio 4 examined the lives of those who were trying to have a child but never succeeded – a situation that affects nearly a quarter of women born in the 1970s.
'My Brother the Terrorist' by acclaimed filmmaker Robb Leech explored his stepbrother Rich's transformation from a 'middle-class young man' to a convicted terrorist. It was produced by Ray Tostevin.
'The Detained' aired on BBC Asian Network looks into the plight of those 'left in limbo' at the UK's immigration detention centres in Yarl's Wood, Dover and Harmondsworth every year.
And 'Three Pounds In My Pocket' on BBC Radio 4examines the untold story of migrants who came from the Indian subcontinent to post-war Britain. The documentary by Kavita Puri hears of the arrival of men in the 1950's and their first impressions of Britain and the stories of the women and children who came in the 50's and 60's.
Photo by Saty Singh – Studio 4 Photography
Media