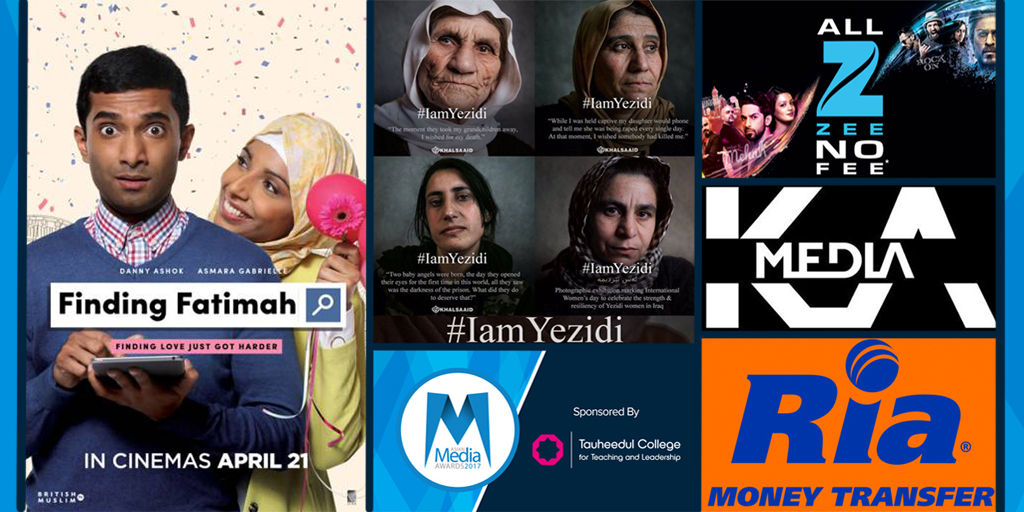 Movies, exhibitions and video graphics: the 2017 Creative Media Award shortlist.
In 2017 we honour young and aspiring talent as well as campaigns that have looked to engage audiences from across the UK. This category is supported by Tauheedul Education Trust.
All Zee No Fee – Ethnic Reach
When Zee TV unveiled their plans to offer the channel free to subscribers they needed something unique and catchy. The All Zee No Fee encompassed a range of marketing avenues including Zee's Title sponsorship and participation in regional Melas in key locations such as London, Birmingham, Manchester and Luton.
Finding Fatimah – British Muslim TV
Few films produced in the UK, starring some of the UK's upcoming stars, have had such a cultural impact at grassroots level. The film opened in over 45 theatres across the UK in April 2017 after a successful pre-cinema nationwide tour in over 20 cities. The movie was launched during a period when further demonisation of young British Muslims was making it increasingly difficult to share a message of understanding but the Finding Fatimah campaign aimed to do just that.
#IamYezidi Campaign – Media Hive for Khalsa Aid
This innovative project and exhibition looked to highlight the hardships faced by Yezidi women in Iraq. The photographic exhibition was held at London's Lacey Contemporary Gallery to mark International Women's Day 2017. The exhibition captured the heart breaking but inspiring stories of the brave women, highlighting their suffering while paying tribute to their incredible strength. It was a narrative of the individual stories of women who have escaped slavery or have rescued their sons and daughters from ISIS captivity.
KA Media
In a short space of time Kasim Ali, a self-taught graphic and video production artist has produced a range of original work for clients. Scottish based KA Media specialises in media for businesses to help them promote the product or service they provide. The company has worked with a wide range of businesses creating projects from simple photoshoots to video advertisements. Having never studied anything associated with photography or promotional media his productions have been highly commended for their innovative and original style.
RIA Money Transfer Campaign – Ethnic Reach & RIA Money Transfer
This campaign looked to promote money transfer services to South East Asia, with a focus on India, Pakistan and Bangladesh. RIA Money Transfer is the third largest money remittance company worldwide with several branches in the UK and an extensive network of agents. The marketing campaigns looked to create a 'feel-good factor' around the social connection of sending money back home for those immigrants, expats or people with ties to those countries.
---
This year's Asian Media Awards returns to the Hilton Manchester Deansgate on Wednesday October 25 2017.
Previous recipients of an Asian Media Award include Krishnan Guru-Murthy, Waris Hussein, Art Malik, Mehdi Hasan, Nina Wadia and Anita Anand.
The University of Salford are premier sponsors and partners to the event include ITV, MediaCom, M.E.N, Press Association Training & Primesight.
The official Charity Partners for 2017 are Sightsavers.
The event is also supported by Manchester Metropolitan University, Routes Into Languages, AMT Lawyers, Hilton Manchester Deansgate, Tauheedul Education Trust, Supreme Dream Events, Payal and Cleartwo.