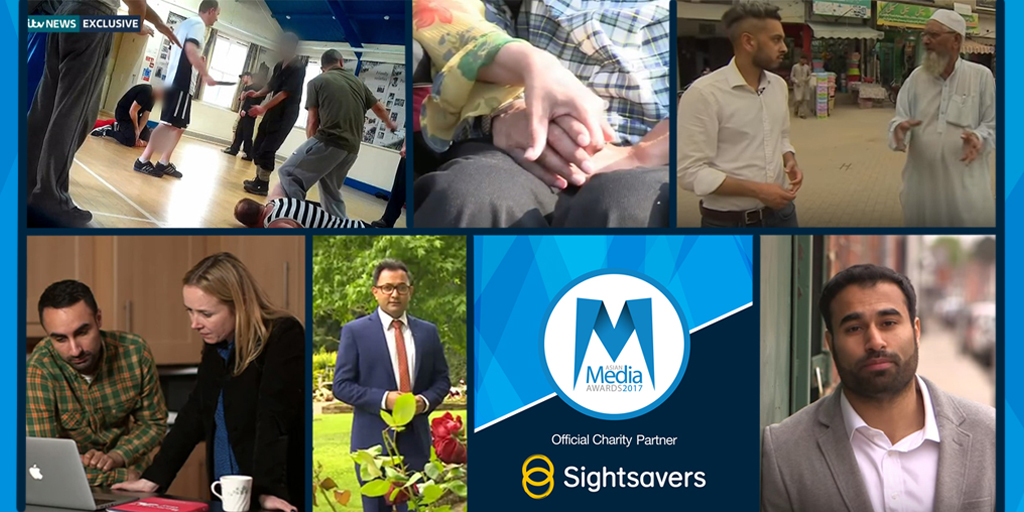 Definitive engaging reports are included in this year's TV Report of the Year category. The TV Report of the Year category is supported by Sightsavers.
Charity (Bhaarat Welfare Trust) – Sumeer Kalyani for BBC East Midlands Today
An exclusive story which alleged that a local charity had diverted nearly £100,000 of donations to India when it should have been looking after the money for another local project. The report caused shock waves in the Indian community in Leicester. Eight months after first breaking the story, Sumeer was again able to reveal exclusively in March 2017 how the charity commission had frozen BWT's bank accounts.
Disability Dating – By Anisa Kadri for BBC Asian Network and BBC World
Anisa Kadri tackles a subject matter few have looked to explore in the past. In Disability Dating she investigates how some disabled women find themselves ignored and sometimes ostracised for not being able to fit the 'perfect mould' of possible suiters. She also speaks to a couple who reveal how their families expressed concerns when they first met but despite the challenges they proceeded to get married. She self-shot and edited this story for BBC Asian Network on disability and dating and the report was also aired on the BBC World News.
Former Members of Banned Terror Group Meet at Far-Right Training Camp – By Rohit Kachroo for ITV News; Produced by: Becky Kelly
This is an exclusive undercover investigation exploring how former members of Britain's first white supremacist terror group are still meeting in secret, despite being banned by the Government. National Action celebrated the death of MP Jo Cox before the group was banned by the Home Office in December. The ban makes it a terrorism offence for the group to exist or meet, with a jail term of up to 10 years if convicted. However, this undercover report by ITV News caught individuals with links to the banned group together at a training camp for far-right sympathisers in the Peak District.
India's Partition 70 years on: 'I killed a man' – By Secunder Kermani for BBC
Secunder Kermani hears from a man who helped to beat an Indian politician to death during Partition. The report is just over two minutes twenty seconds long but it has a much deeper impact. He spoke to a man who admitted he was part of a group that found a Hindi man and beat him to death. The report goes on to interview the nephew of the victim who revealed his uncle was a highly respected individual and how the death tore their family apart. It concludes with the Kermani showing the perpetrator a statement from a relative of the victim he claims to have killed 70 years ago.
Male Honour Abuse – By Katie Razzall, Producer: Yasminara Khan for BBC Newsnight
A BBC Newsnight report into male honour abuse broadcast in April 2017 highlighted one of the most hidden issues within the South Asian and Middle Eastern communities. Research by the programme showed that men from the relevant communities were particularly reluctant to go to the police about the abuse they'd suffered. The men saw honour abuse as something that only women could report and receive support for. The report found that in many cases, within their own communities, these men are not seen as victims even if they have suffered sexual or physical violence.
Teesside: Can Locals and Asylum Seekers Get Along? – By Assed Baig for Channel Four
In this informing report a year on from Brexit, Assed Baig speaks to locals in Teesside about immigration and integration. Once the hub of Britain's steel industry, Teesside now manifests high unemployment and low life expectancy and is home to record numbers of asylum seekers. Many claimed they'd become targets for abuse, due to their red-painted front doors.  Assed returned to Teesside to find out how long-term residents and those who've recently arrived are coping in this area of high deprivation. He speaks to refugees, one of whom reveals he is left with £4 to live on after he has paid his bills.
---
This year's Asian Media Awards returns to the Hilton Manchester Deansgate on Wednesday October 25 2017.
Previous recipients of an Asian Media Award include Krishnan Guru-Murthy, Waris Hussein, Art Malik, Mehdi Hasan, Nina Wadia and Anita Anand.
The University of Salford are premier sponsors and partners to the event include ITV, MediaCom, M.E.N, Press Association Training & Primesight.
The official Charity Partners for 2017 are Sightsavers.
The event is also supported by Manchester Metropolitan University, Routes Into Languages, AMT Lawyers, Hilton Manchester Deansgate, Tauheedul Education Trust, Supreme Dream Events, Payal and Cleartwo