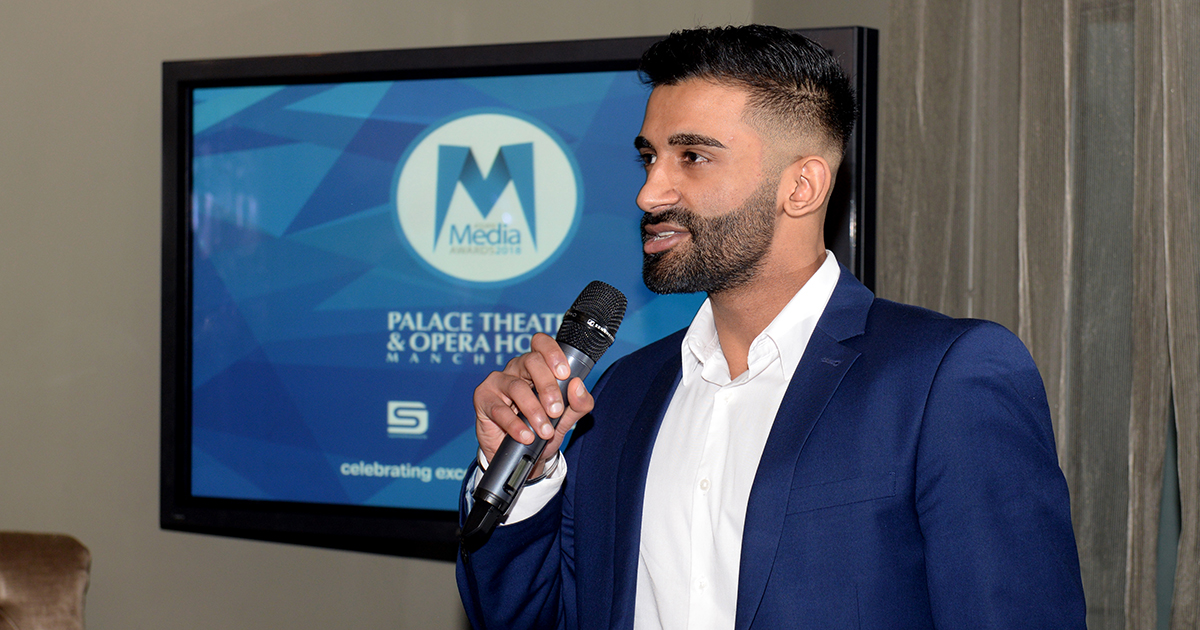 Young journalist finalist Aran Dhillon said there were still many opportunities in the media despite the industry changing considerably.
Aran was speaking at the official launch for the 2018 Asian Media Awards which this year took place at the Palace Theatre and Opera House Manchester.
Aran was a finalist at in Outstanding Young Journalist 2017 Category.
He studied journalism at Leeds Met University and started working at the Warrington Guardian newspaper in October 2014.
He has now started in the role of BBC Local Democracy Reporter at the Warrington Guardian.
Speaking at the launch he said, "I think, in my three and a half years at the paper, the industry has changed massively and I've witnessed that first-hand while being in the newsroom.
"But it isn't all doom and gloom, despite the difficulties the industry is facing, there is a lot of opportunity.
"I've been very lucky while being at the Warrington Guardian, in regards to the freedom that I have been given in my role as a reporter.
"It is that freedom which has allowed me to delve into the many issues that I've covered to date, whether that be issues facing the Asian population, issues linked to politics, or issues linked to local government."
Speaking of the Asian Media Awards he said, "Taking my mind back to last year, just to be named as a finalist in the Asian Media Awards was a massive shock for me.
"To have my work recognised in that manner was wonderful and extremely humbling. It was great to be in the company of so many talented individuals from the industry and, again, it is great to be here today for the launch of this year's awards.
"Also, I, and I think, everyone in the industry will agree, that we owe a huge thank you to those who consume our content, whether that be readers, viewers or listeners.
"Personally, the time that people devote to reading my content is something that I will never take for granted. In my view, time really is the most valuable commodity, so I'm very grateful for that.
"But I do believe that, despite significant progress, the industry is still under-represented in some areas when it comes to Asian representation – and I think for the Asian Media Awards to showcase the work going on really does go a long way into giving people an insight into what is taking place – and to show that anything is possible."
Aran started his own blogging page last August called Home Away From Homeland. On it he discusses issues facing, and linked to, the Asian population in the UK.
"I also interview figures from the Asian community to highlight their stories. So far, they have included an interview with a woman discriminated against for wearing a hijab, a refugee who fled Syria, and a Sikh priest on what the kirpan means to Sikhs.
"I think everyone across media has a massive social responsibility to ensure people from different backgrounds and communities continue to have their voices heard, so long may the work that is being done continue."
---
This year's Asian Media Awards returns to the Hilton Manchester Deansgate on Thursday October 25 2018.
The official shortlist announcement will take place at MediaCom HQ on Monday September 17 2018.
Nominations for 2018 open Tuesday April 24 2018.
A full list of categories including special awards can be viewed at www.asianmediaawards.com/categories.
Previous recipients of an Asian Media Award include Krishnan Guru-Murthy, Waris Hussein, Art Malik, Mehdi Hasan, Nina Wadia and Anita Rani.
The University of Salford are premier sponsors and partners to the event include MediaCom, M.E.N, Press Association Training, Primesight & The Palace Theatre & Opera House.
The event is also supported by Manchester Metropolitan University, Routes Into Languages, AMT Lawyers, Hilton Manchester Deansgate, Namey, Supreme Dream Events, Payal Events and Cleartwo.