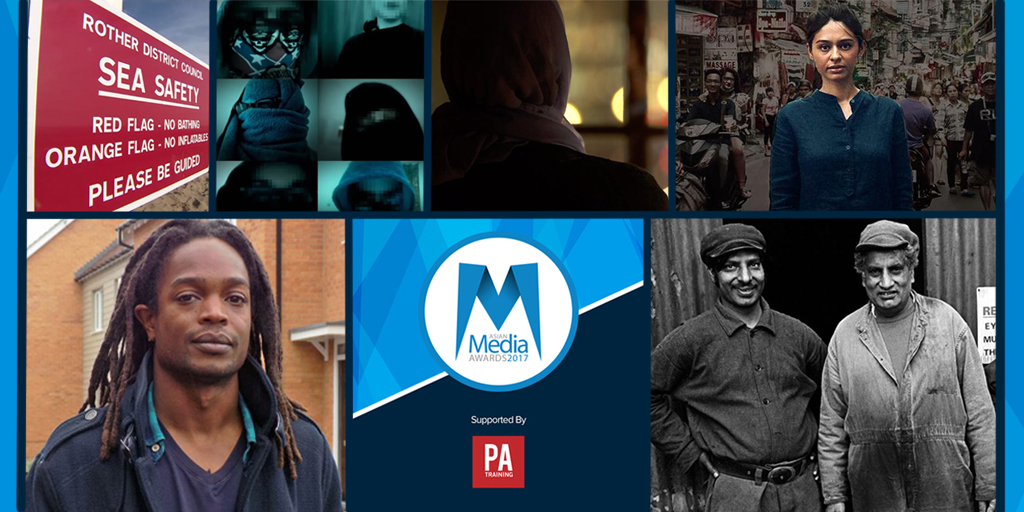 Best Investigation 2017 Finalists: raising uncomfortable issues and highlighting injustice.
From issues relating to race and religion to important historical documentaries, the 2017 Best Investigation category includes compelling work.
This category is supported by Press Association Training.
Camber Sands Investigation – ITV Meridian, Reported by John Ryall; Programme Editor Kim Hewitt; Head of News: Robin Britton; Presenters Fred Dinenage and Sangeeta Bhabra; Director, Lisa Nichols
The team at ITV Meridian explored how five young men lost their lives when they took a trip to a beach in Sussex last August. One by one they drowned after getting into trouble in the water. The sea at Camber Sands is notorious for its rip tides. The group were all well loved and respected members of their small Sri Lankan community in London. Tragically the five friends were not the only fatalities last summer.
Halala: The Men Who Sell Divorce – By Athar Ahmad for BBC Asian Network and the Victoria Derbyshire Programme
Halala: The Men Who Sell Divorce, explored the little known issue of halala – a custom believed by a small minority of Muslims to be the only way women are able to reconcile with their husbands after a divorce. Athar's investigation was the first ever undercover operation carried out by the BBC Asian Network and shed light on a practice which can result in the sexual abuse, financial exploitation and blackmailing of women. The investigation spanned six months.
Islam's Non-Believers – Deeyah Khan, Fuuse Films for ITV Exposure
The experiences of ex-Muslims, who face extreme discrimination, ostracism, psychological abuse and violence as a result of leaving Islam is revealed in this documentary. Islam's Non-Believers paints a vivid picture of the dangers facing those who renounce their faith. Some are at risk of suicide, or self-harm, or have been physically and psychologically abused by their closest family members.
Racist Britain: Channel 4 Dispatches – Reporter: Seyi Rhodes; Producer: Bushra Siddiq; Director: Ben Ryder; Executive Producer: Lucie Kon
A powerful investigation into the scale of a problem that had previously been hidden, the toxic side-effect of the EU referendum result, with the bigoted choosing to see it as a political endorsement of their own prejudice.  In 'Racist Britain' there was, for the first time, undeniable evidence that this was not simply something that happens somewhere else. This Dispatches programme was the first to reveal the impact of the EU Referendum on Xenophobia, and especially Islamophobia in the UK with shocking video footage of some of the abuse and attacks.
The Sikhs of Smethwick – Billy Dosanjh for BBC Four, Co-produced by Blakeway and Lowlife Pictures
In this insightful and at times emotional documentary midlands filmmaker Billy Dosanjh celebrates 50 years of the Sikhs in his hometown of Smethwick. Researched over a two year period and using rare archive the Billy hears the frank personal testimony from generations of Smethwick's Sikhs. He explores the experiences of the changing traditions and the challenges to centuries old traditions – especially in love and marriage – that life in modern Britain brings.
The Traffickers – Nelufar Hedayat for Lightbox
This eight part documentary series traced the global trafficking routes of some of the world's most sought-after commodities: gold, exotic animals, sex and even human body parts – finding that anything can be bought for a price.  The series gives an exclusive guide to the global black market, with high production values, cinematography and investigative journalism. In her investigations, Nelufar visited twenty-two different countries, travelling across the globe to follow supply chains, speak to smugglers, consumers and survivors.
---
This year's Asian Media Awards returns to the Hilton Manchester Deansgate on Wednesday October 25 2017.
Previous recipients of an Asian Media Award include Krishnan Guru-Murthy, Waris Hussein, Art Malik, Mehdi Hasan, Nina Wadia and Anita Anand.
The University of Salford are premier sponsors and partners to the event include ITV, MediaCom, M.E.N, Press Association Training & Primesight.
The official Charity Partners for 2017 are Sightsavers.
The event is also supported by Manchester Metropolitan University, Routes Into Languages, AMT Lawyers, Hilton Manchester Deansgate, Tauheedul Education Trust, Supreme Dream Events, Payal and Cleartwo.