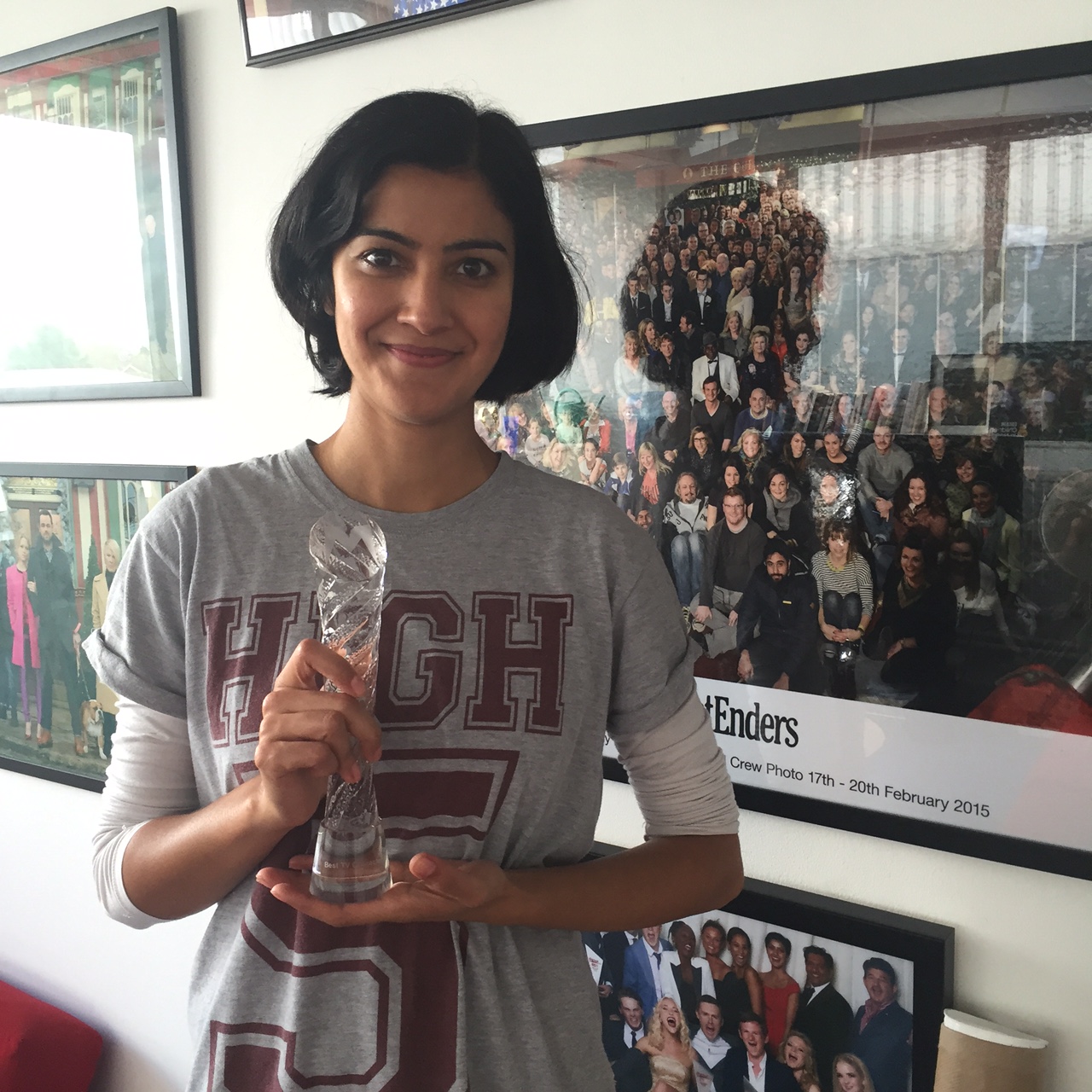 Rakhee Thakrar was named the Best TV Character at this year's Asian Media Awards.
This year the Best TV Character award was supported by Supreme Dream Events and presented by Iram Ali-Khan.
The shortlist in 2015 included Pasha Bocarie who plays, Rakesh Kotecha on Emmerdale; Sair Khan who plays Alya Nazir on Coronation Street and Nikesh Patel who plays Aafrin Dalal on the drama, Indian Summers.
The third AMA ceremony took place at the Hilton Manchester Deansgate where stars from TV and radio joined some of the UK's leading journalists, broadcasters and writers.
Since first appearing on EastEnders in January 2014, Rakhee's portrayal of Shabnam Masood has made the character an integral part of the EastEnders community.
Shabnam is the only daughter in the Masood family, joining her father, Masood played by Nitin Ganatra and her brother,Tamwar, played by Himesh Patel.
She has had storylines ranging from comedic and heart-warming to dramatic and tragic. In recent months she was at the centre of some of some of the most heart-wrenching storylines on the soap.
Accepting the award Rakhee said, "Thank you so much! It's a real honour.
"It feels weird that I'm getting the award.
"There are so many people that make Shabnam Masood, starting with Dominic Treadwell- Collins our exec, and his fantastic story team including Alex Lamb who brought her back with the richest history.
"And the writers who give me some cracking scenes.
"My fellow actors Nitin Ganatra and Himesh Patel, Davood Ghadami and Lacey Turner who all add to her nuances.
"It's a real joy to play her. Thank you so much!"
Thakrar has featured in the radio drama Silver Street and made her first TV appearance in BBC drama Banglatown Banquet. Thakrar went on to feature Doctors, Holby City, Peep Show and in British-Asian drama Cloud 9.
The Asian Media Awards took place on Thursday October 29 at the Hilton Manchester Deansgate.
The University of Salford were premier sponsors and partners to the event included ITV, MediaCom & Press Association Training.
The 2015 AMA's supported Plan UK's 'Because I am a Girl' Campaign.
The Asian Media Awards 2015 were supported by University of Salford, Hilton Manchester Deansgate, Carter Law Solicitors, Manchester Metropolitan University, Routes into Languages, Evoque Medical, Zac Dean, Ride Leasing, AMT Lawyers, ITV, MediaCom, Press Association Training, Supreme Dream Events, Cleartwo, Payal, Plan UK & Because I Am A Girl.