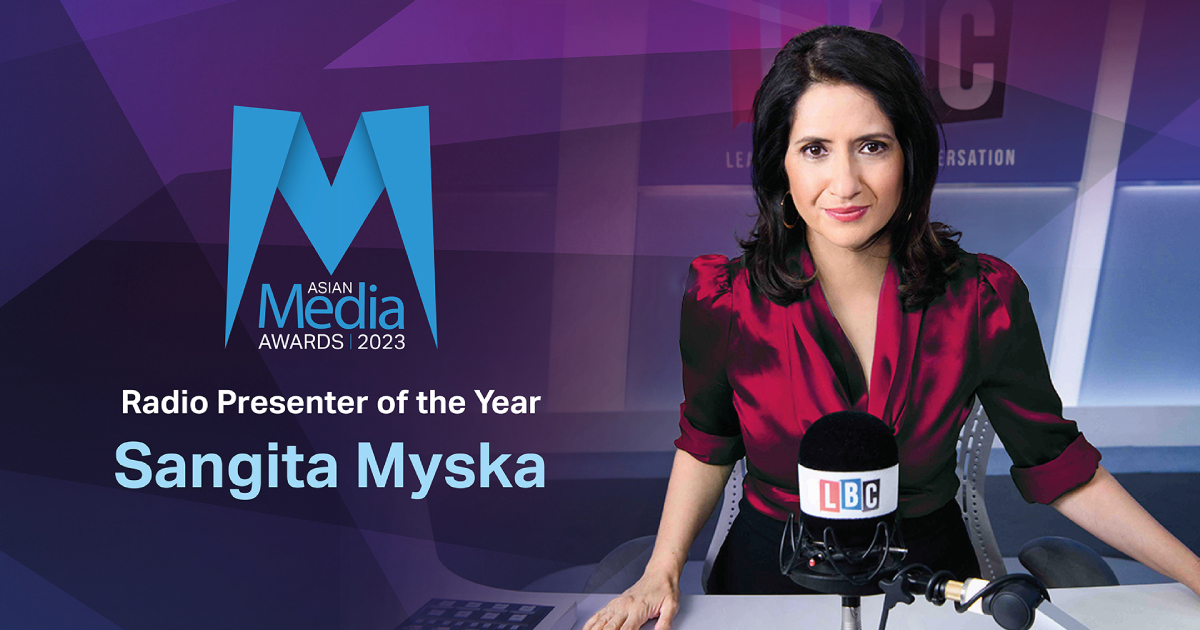 LBC host Sangita Myska was praised by fellow journalists for her 'bravery' as she was named Radio Presenter of the Year at the 2023 Asian Media Awards.
The stars of radio, TV and broadcasting were honoured at the 11th ceremony at the Hilton Manchester Deansgate on Friday (27 October).
Sangita hosts her own talk show on LBC, where she discusses and debates the major news headlines of the day.
During her time on the station, she has been at the forefront of leading conversations that may be 'dividing' people and sought to bring expertise, insight and factual basis to some of the nation's biggest news stories.
The awards noted she 'has aimed to reach out to people of all backgrounds and cultures, helping to tackle misconceptions and ignorance on all sides.
'By doing so she has been commended for bringing a balanced perspective to discussions. At times, her interviews holding politicians to account and challenges to bigoted has led her to be target online.'
The award was picked up by fellow broadcaster Nihal who told the audience Sangita was 'on following advice unable to make the journey to Manchester' following an online threat which is currently under investigation by the police.
In a video message to the audience Sangita said: "Being a journalist on the radio is difficult as you face an onslaught of criticism. The constructive stuff is great, but a lot of the social media void is filled with hatred.
"It can cause serious emotional harm.
"There is no doubt in my mind that being a journalist, being a female journalist of colour attracts a lot of an online focus, than would otherwise."
Speaking of diversity in newsrooms Sangita said: "Things have changed a lot I began in the industry 20 years ago but there is still a lot do.
"Diversity means nothing without inclusion. So, if you are an employer of diverse journalists, due to their ethnic heritage, class or educational background it is important to make them feel included. Put yourself in their place."
The awards celebrated winners in a range of categories in journalism, stage, online and creative media.
Meera Syal and Sanjeev Bhaskar were honoured with the Sophiya Haque Services to Television, Film & Theatre Award, whilst celebrated sports broadcaster Mihir Bose received the Outstanding Contribution.
---
This year's Asian Media Awards winners were announced at the Hilton Manchester Deansgate on Friday October 27.
Previous recipients of an Asian Media Award include Krishnan Guru-Murthy, Waris Hussein, Art Malik, Mehdi Hasan, Nina Wadia, Anita Rani, Shobna Gulati, Faisal Islam, Adil Ray & Lisa Aziz.
The University of Salford are Premier Partners to the Asian Media Awards.
Partners to the awards include ITV, EssenceMediaCom, Reach PLC & Women In Journalism.
The awards are also supported by Manchester Metropolitan University, AMT Lawyers, DKR Accountants, Opus Broadband, Hilton Manchester Deansgate, Fritz AV, Payal Events & Cleartwo.