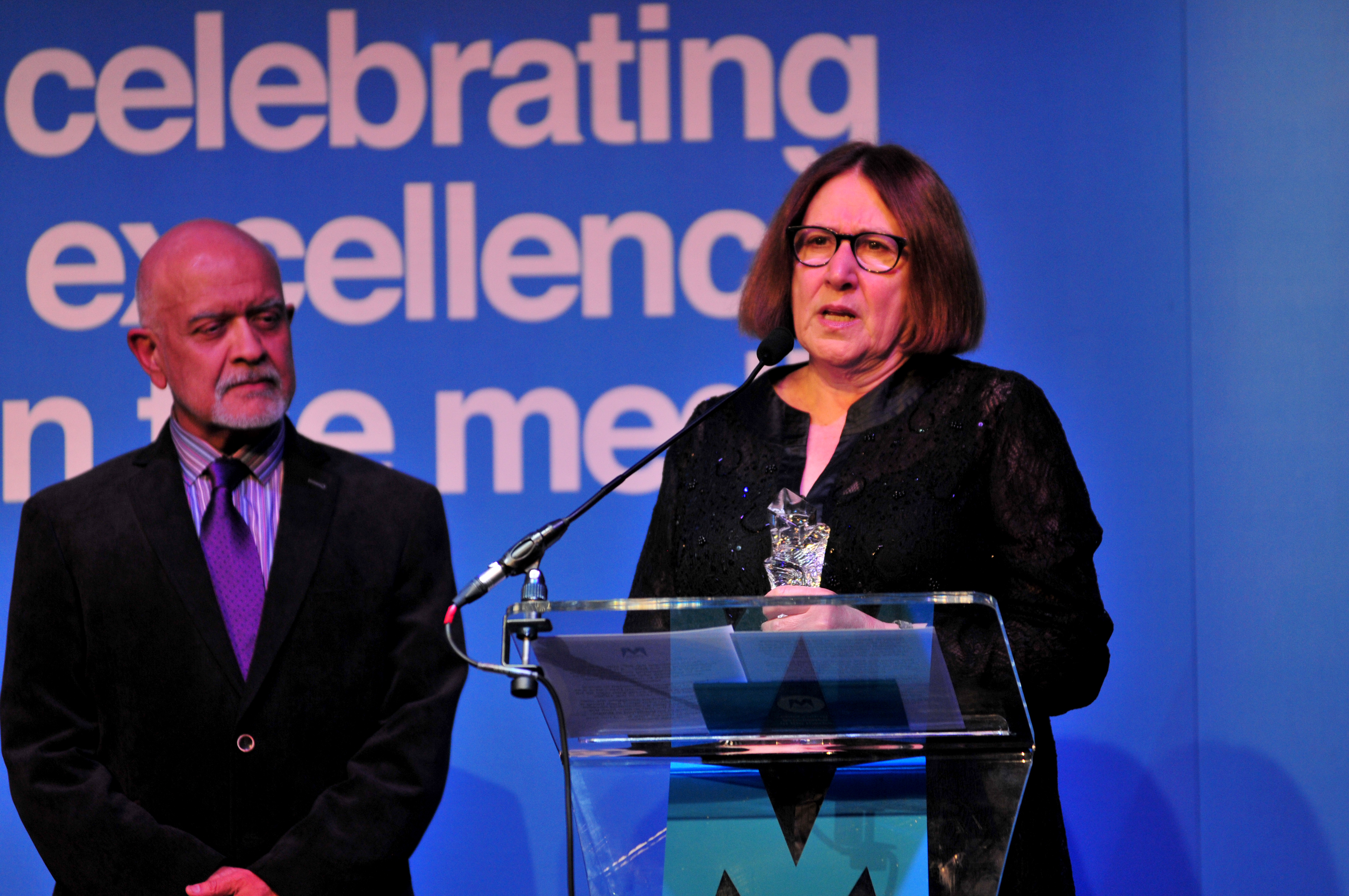 The Asian Media Awards saw two of the industry's first Asians to work in the mainstream media share the same stage.
Writer and producer  Tara  Prem was presented the Outstanding Contribution to Media Award  by last year's recipient, Waris Hussain, the first ever director of Dr Who.
Tara wrote the first drama on British television to have an entirely Asian cast in 1973, 'A Touch of Eastern Promise.' 
Tara went on to produce a variety of TV shows and films for her late husband, the celebrated British actor Brian Glover.
Tara was one of the first Asians to work in mainstream British television. Her interest in acting was induced by her father Bakshi Prem who was a pioneer in his own right as he worked for BBC Urdu in the 1930s.
Incidentally, Tara's father and Waris' mother, Attia Hossain worked together on various notable projects.
Welcoming Tara to the stage Waris said, "As we celebrate the 50th year of Asian programming on the BBC…it is only fitting that this year's Outstanding Contribution Award goes to someone who was one of the first Asians to work in mainstream British television.
"Based in Birmingham in the early seventies she said she became aware that there was a substantial immigrant population and felt that if TV should reflect what was going on outside the studios.
"These awards are about celebrating the work of the next generation of media professionals but they make aware the valued contributions of those that came before us.
So, here we are half a century later the children of two unsung different broadcasters and writers on the same the same stage."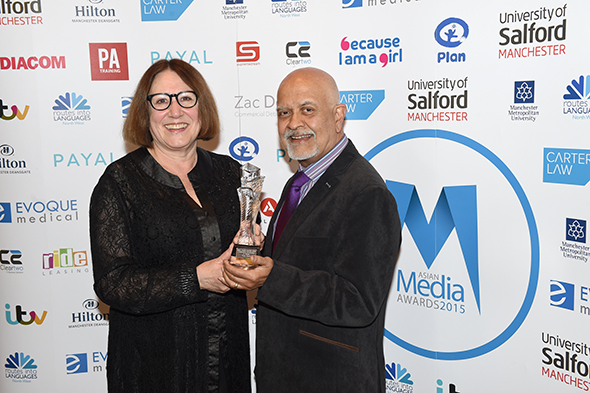 Speaking on stage Tara said, "Thank you. I am overwhelmed to come at the end of an evening of such talent.
"Over forty years ago I wrote a film for BBC television and it was indeed the first BBC drama to have an all Asian cast.
"I worked in Birmingham and the brief was to reflect life in the English regions and I said that if I look out of my window and I can see all these Asian people in Birmingham and surely this is a life that we should be reflecting as well.
"And I had a completely free hand and nobody ever said that we were doing the first all Asian drama.
"What we were trying to do was do a drama that just reflected life. It told a very simply story of a homesick young man who lived in his fantasy world and was in love with a Bollywood actress who came to Birmingham."
"It was recognised as a moving drama about a young boy. The Asian aspect was only opening people's eyes to a world but it was not the driving force behind it. And it seems to me that is most important thing in all drama that it must reflect a reality that people can understand across all communities everywhere."
Tara added, "I would just like to say a few words about my father who coincidently worked with Waris's mother. My father came to the UK in 1931 and I learnt recently on the same boat as Gandhi.
"He was only twenty years-old and he had been sent as the eldest son to become a doctor. He dropped out and somehow ended up at the BBC India Service broadcasting back to India translating plays such as TS Elliot and Shaw.
"He stayed in England and things were very different for an Indian actor.
"All the main parts were played by browned-up British actors. It is wonderful to know how things have changed.
"Thank you very much."
The Asian Media Awards took place on Thursday October  29 at the Hilton Manchester Deansgate.
The University of Salford were premier sponsors and partners to the event included ITV, MediaCom & Press Association Training.
The 2015 AMA's supported Plan UK's 'Because I am a Girl' Campaign.
The Asian Media Awards 2015 were supported by University of Salford, Hilton Manchester Deansgate, Carter Law Solicitors, Manchester Metropolitan University, Routes into Languages, Evoque Medical, Zac Dean, Ride Leasing, AMT Lawyers, ITV, MediaCom, Press Association Training, Supreme Dream Events, Cleartwo, Payal, Plan UK & Because I Am A Girl.