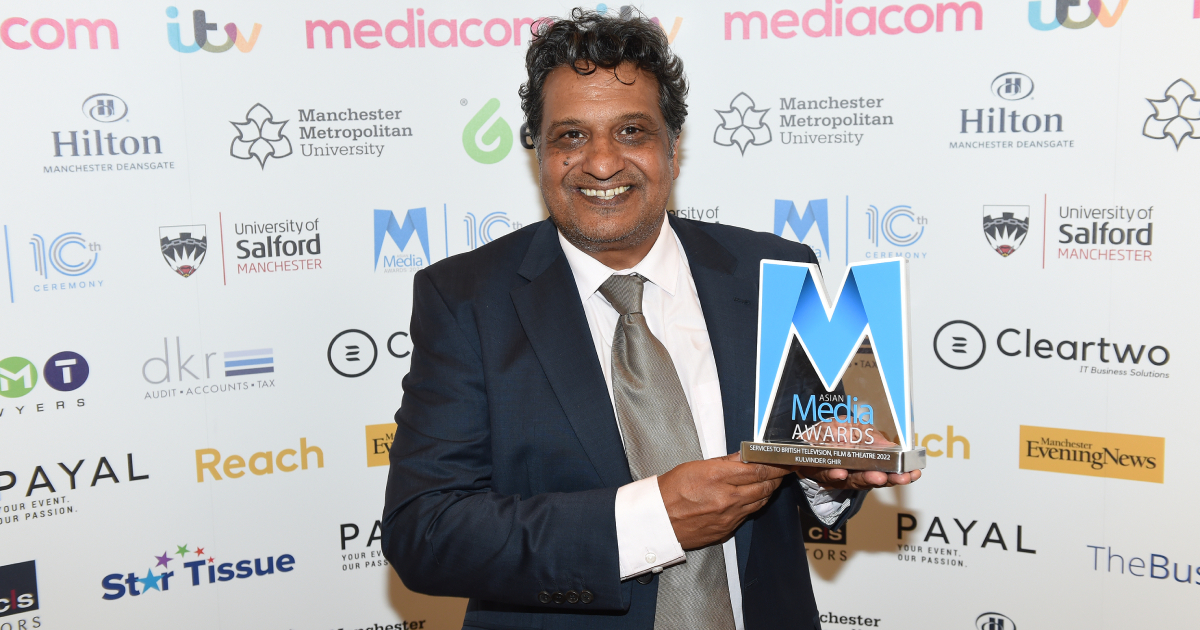 Actor Kulvinder Ghir dedicated his award to his mother as he was honoured at the 10th Asian Media Awards.
The acclaimed TV and stage actor and writer whose career spans over 40 years spoke of the need to 'remember the sacrifices' of those who came before us at the 2022 awards in Manchester.
The ceremony hosted by Sky Sports News presenter Bela Shah also saw special awards for LBC News host Lisa Aziz, BBC 5Live broadcaster Nihal Arthanayake, actress Ambika Mod and Dr Karan Rajan.
The awards honoured journalism, online, radio, TV, creative media, stage, theatre and live events in 23 categories and was back at the Hilton Manchester Deansgate where the first awards took place in 2013.
The University of Salford are the Premier Partners for the awards which aim to shine a light on the accomplishments of media professionals from across the UK.
Kulvinder was presented the award by Sophiya's sister's Sayera and Zara. Kulvinder had actually worked with Sophiya on stage and in film before her death from cancer in 2013.
Kulvinder was joined on stage by his older brother and mum Surinder Kaur Ghir.
Kulvinder said: "It has been great seeing some faces here to today.
"It is really important that I brought my mother with me tonight.
"I want to dedicate this to her because she was there the first day and she is here today."
Kulvinder is known for playing some of Britain's best loved TV, film and theatre roles for over 40 years.
He has been seen in among others, Still Open All Hours, Blinded by the light, Rita, Sue and Bob Too! and of course Goodness Gracious Me.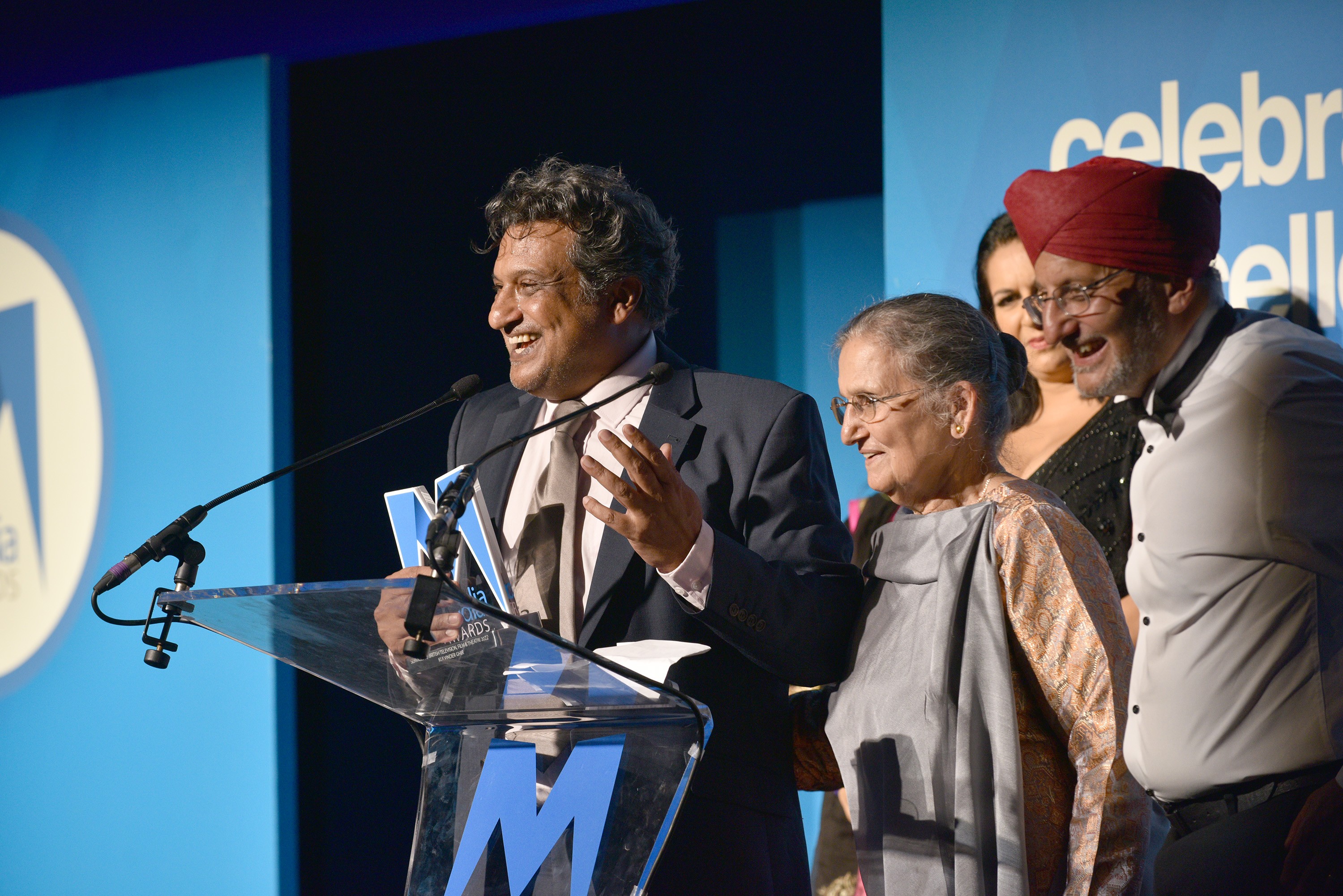 The Bafta nominated writer is also known for working on some of the most defining productions of the past four decades.
Kulvinder came to the country in 1972 and his family later settled in Leeds after staying in London. He said he was always interested in making people laugh from a very young age.
Earlier, Kulvinder had spoken to the AMA's about his career.
He told us: "Even at the age of 11 I liked to do impressions of famous people like Tommy Cooper, Margaret Thatcher and Elvis.
"My English teacher said I should consider going to drama school.
"In 1977 I entered a talent show at City Variety Leeds after reading about it in the Yorkshire Post and then I got the acting bug."
It was however in the working men's clubs of the late seventies where Kulvinder would realise two things. One, that he wanted to entertain people and secondly, that there were a minority who saw him as a novelty.
"Up until then I knew there were people out there who may not like me for the colour of my skin."
As a teenager in 1981 he appeared on the Yorkshire Television programme 'The Extraordinary People Show'.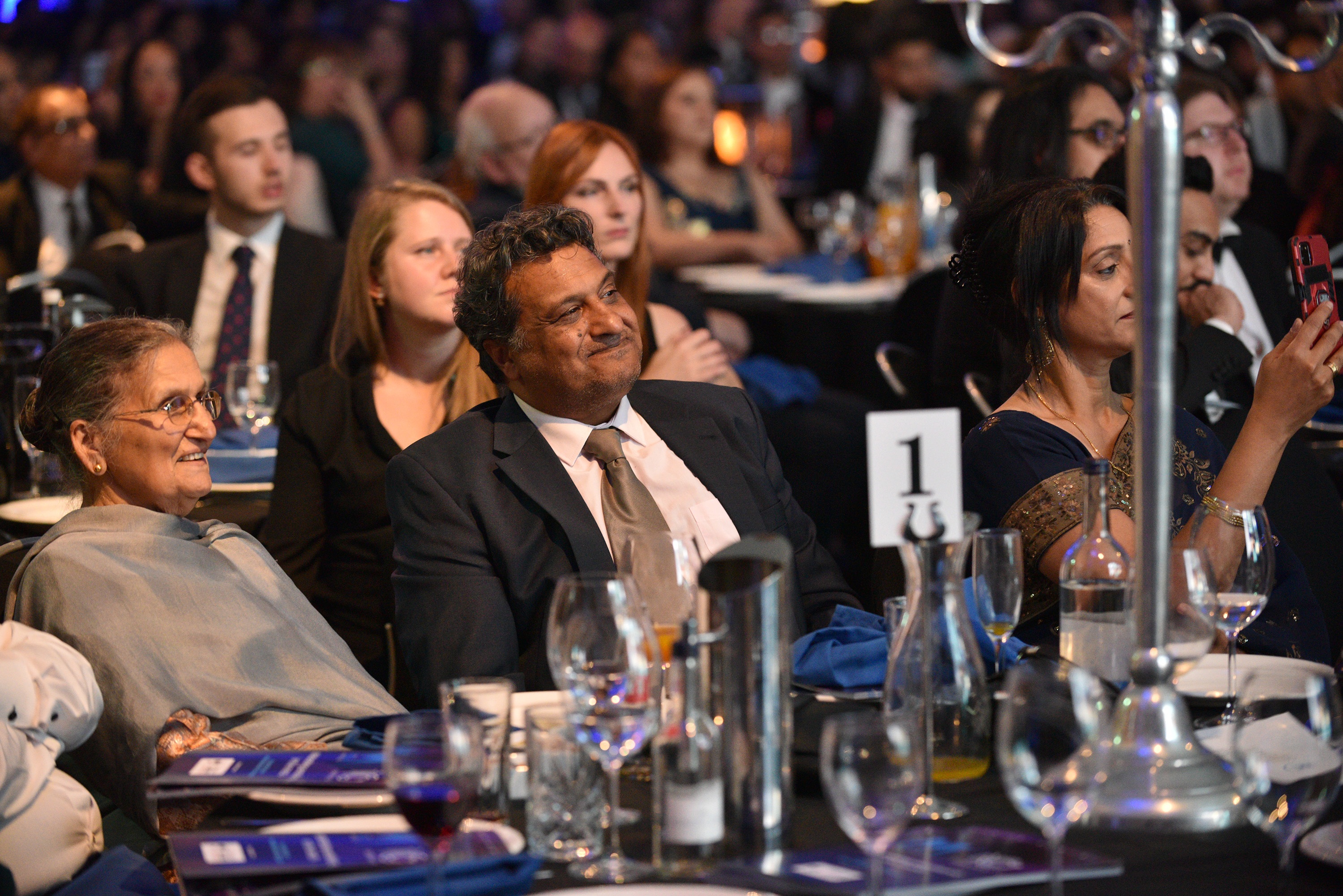 It was a period Kulvinder felt was a learning curve as much as anything else and he worked on No Problem! the first sitcom to be broadcast on Britain's new Channel 4.
After four years of drama school in London he would land his first job on TV in 1985, in the recurring role of Davy Malik in the BBC drama Howards' Way. Then he would go on to appear in Alan Clarke's cult classic, Rita, Sue and Bob Too!.
Few people will be aware that the short film Breath of Life written by Kulvinder alongside Nasser Memarzia was nominated for a Bafta in 1991. He would also go on to feature in Thatcher's Children, the much-celebrated work by playwright Trevor Griffiths.
He would also work on the comedy classic The Real McCoy.
He later joined forces with Meera Syal and then Sanjeev Bhaskar and Nina Wadia to create Goodness Gracious Me, the ground-breaking show whose characters continue to resonate with people to this day.
"I enjoyed all the sketches I don't think I would have a favourite. They were very much our own lived experiences and we wanted to share the notion that prejudices exist within our community as much as anywhere else."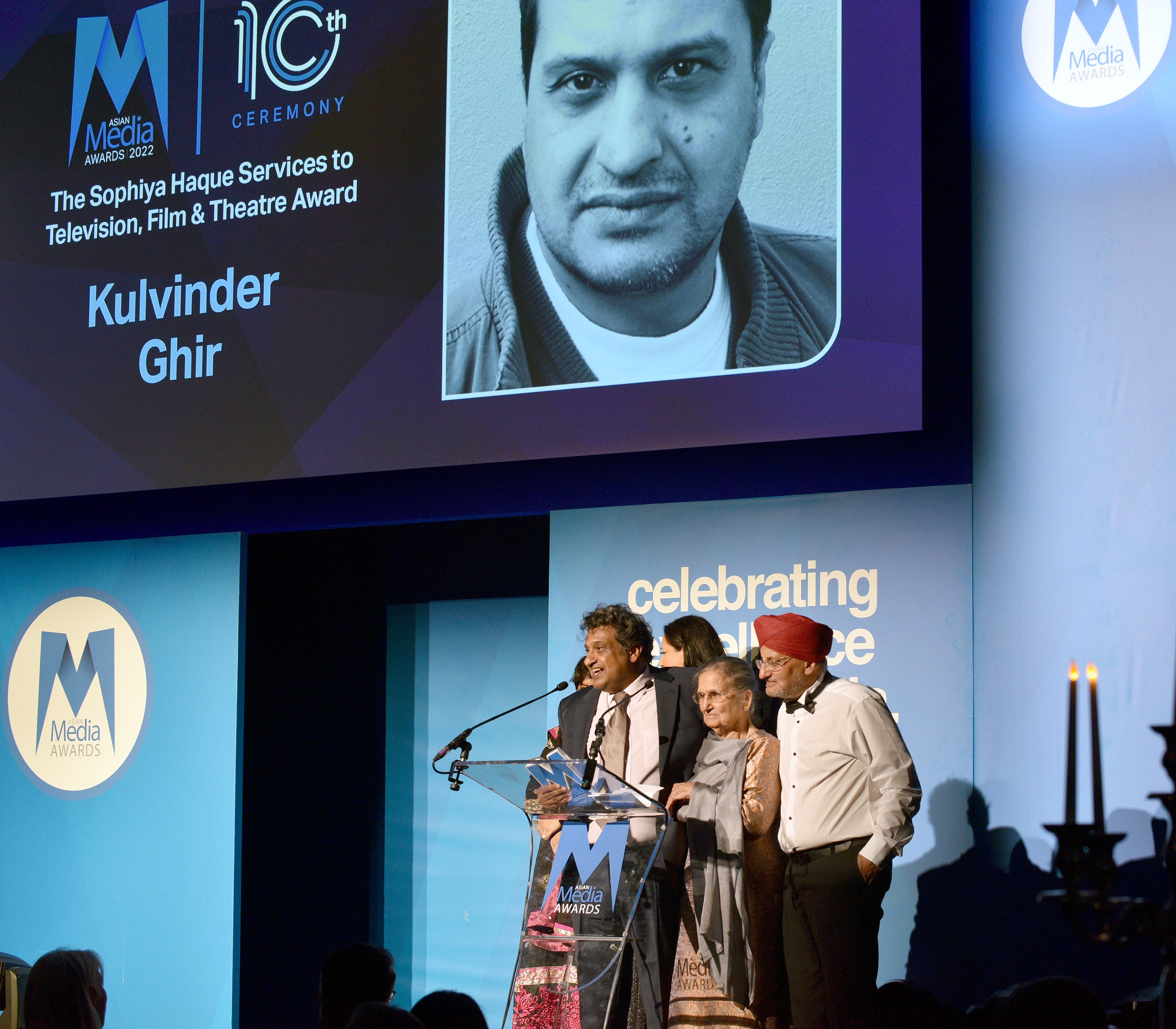 Kulvinder characters with his use of Punjabi phrases were soon being uttered by children of all backgrounds.
"I loved using Punjabi in the sketches. These were the jokes that only Asians would get."
Kulvinder is also known for providing the voice of Ajay Bains in Postman Pat, playing Mohammed Khan, father of Abdullah Afzal's character in the BBC Three comedy series Lunch Monkeys and as George Khan in the stage production of East is East.
Stage and Theatre has always remained very close to Kulvinder's heart and he appeared alongside Sophiya Haque after whom this award is named after in the West End Production of The Far Pavilions.
"Sophiya was an extremely beautiful and talented actress and it was a joy to work with her."
He said: "I enjoyed playing the role of George Khan in East is East. As we all know it is set Salford in and when we were at the Octagon in Bolton, it was so wonderful to have writer Ayub Khan-Din in the audience so close to where it all began."
In a career now spanning close to 50 years Kulvinder said he owes much of his successes to his mother Surinder Kaur Ghir.
"I would like to dedicate this award to my mum as she was always there to support me. She is an amazing human being in so many ways."
---
The 2022 Asian Media Awards winners of all categories and special awards were revealed at the Hilton Manchester Deansgate on Friday October 28.
Previous recipients of an Asian Media Award include Krishnan Guru-Murthy, Waris Hussein, Art Malik, Mehdi Hasan, Nina Wadia, Anita Rani, Shobna Gulati, Faisal Islam & Adil Ray.
The University of Salford are Premier Partners to the Asian Media Awards.
Partners to the awards include ITV, MediaCom, Reach PLC, Manchester Evening News & TheBusinessDesk.com.
The awards are also supported by Manchester Metropolitan University, AMT Lawyers, DKR Accountants, 6G Internet, Hilton Manchester Deansgate, Fritz AV, Payal Events & Cleartwo.