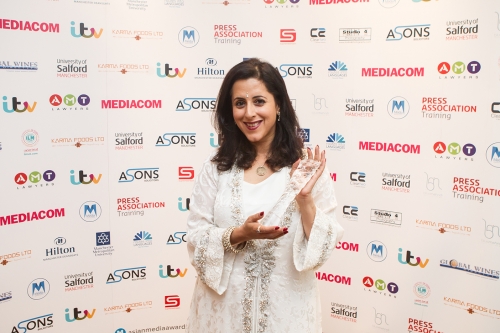 BBC Radio 4's Anita Anand was honoured with the Asian Media Awards Radio Presenter of the Year award.
Anita Anand took over the chair of BBC Radio 4's topical phone-in programme 'Any Answers?' from the outgoing Jonathan Dimbleby.
She became the first Asian presenter of the show in its 26 year history.
The programme is live and follows the news agenda. In the past year Anita has tackled a whole range of domestic and international issues from the conflict in Gaza, the hostilities in the Ukraine, and the ongoing wars in Iraq and Syria.
Anita said, "This is extraordinary. I'm really touched to win this as it was a really strong field. I'm overwhelmed. Given the calibre of people, I wasn't expecting to win this award.
"I don't know why the judges picked me! I want to go and ask them now."
Anita was shortlisted alongside Nihal and Noreen Khan of the BBC Asian Network and DJ Neev of Kiss FM.
Anita continued, "Any Answers is a really important programme. It's a window between you and politicians who run your lives and make the decisions that affect your life.
"I've always felt this programme provides a vital shared space where politicians can hear the impact of their decisions on those they seek to lead.
"The voices are always passionate and sometimes express opinions they may find hard to hear, but MPs block them out at their peril.
"There has been much talk of a disconnect with politics of late – with some calling on the public not to vote.
"Men and women struggled, often risked their lives to give us a voice. Never let anyone tell you that you can't be heard."
The Asian Media Awards were held at the Hilton Manchester Deansgate on Tuesday October 28 and were sponsored by the University of Salford and Asons Solicitors.
The event was hosted by Manish Bhasin from the BBC and Sam Ali Khan of ITV Central.
Event partners included ITV, MediaCom and Press Association Training.
Photo by Saty Singh – Studio 4 Photography
Media