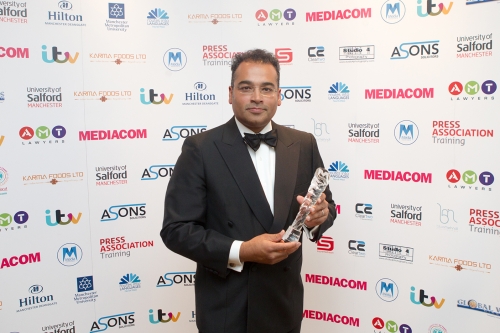 Channel 4 won the TV Report of the year at the second Asian Media Awards.
The report 'Why Muslim Women Choose To Wear The Veil' was part of a special feature on integration.
The programme looks to explore why an increasing number of young Muslim women cover their faces.
Reporter Darsha Soni speaks to women who have decided to wear the full veil and their thoughts on being targeted for the way they dress.
There are also questions on whether the veil itself makes some of the wearers 'less British' in the eyes of some.
The category also included, '100 Years of Bollywood' aired on ITV Central and 'Sons of Empire A First World War Commemoration' by ITV Meridian.
Channel Four presenter Krishnan Guru-Murthy picked up the award on behalf of the news team.
Special awards on the night went to Nina Wadia who collected the Sophiya Haque Services to British Television Award and Waris Hussein who was honoured with the Outstanding Contribution to Media Award.
The Best Investigation Award went to Ross Kemp for the Extreme World: India episode. Chris Bisson who plays Jai Sharma on Emmerdale was named as Best TV Character.
The Asian Media Awards were held at the Hilton Manchester Deansgate on Tuesday October 28 and were sponsored by the University of Salford and Asons Solicitors.
The event was hosted by Manish Bhasin from the BBC and Sam Ali Khan of ITV Central.
Event partners included ITV, MediaCom and Press Association Training.
Photo by Saty Singh – Studio 4 Photography
Media