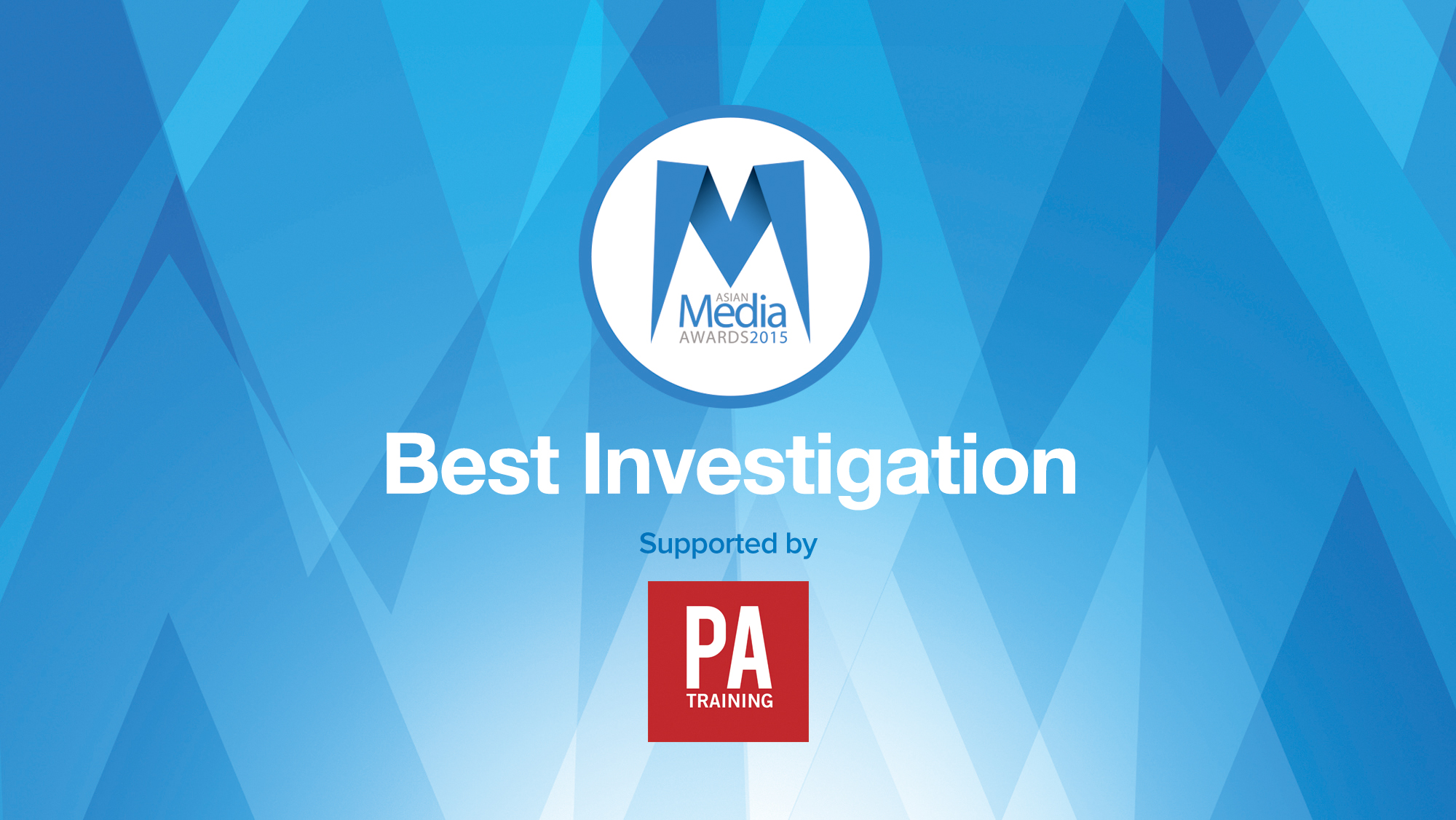 The Asian Media Awards Best Investigation category in 2015 features ground-breaking work tackling controversial subject matters from across the globe.
Exposure – Jihad: A British Story (Deeyah Khan for ITV News)
The roots of Islamic extremism in the UK and the challenges faced by those who turn their back on it are explored in this exclusive documentary by Deeyah Khan. In it she spent two years travelling across the UK and interviewing British citizens whose lives had been consumed by extremism. It includes emotional interviews with the now reformed and moderate imam Abu Muntasir who describes how he is tormented by his violent past.
Produced by Fuuse for ITV News
India's Daughter (A film by Leslee Udwin)
Following the shocking gang rape of a student in India in 2012, filmmaker Leslee Udwin looks to explore the issue of violent crime in the South Asian continent.
One of the more startling aspects of the piece is an unprecedented confession in custody from one of the rapists, in this case from Tihar Jail, Delhi.  This interview has afforded crucial insight into the mindset of the men who committed the rape, and presents a wider in-depth exploration of the patriarchal society and culture which seeds and encourages violence against women.
As part of BBC Storyville Series. Edited by: Anuradha Singh; Executive Producer: Nick Fraser; Associate producer Riddhi Jha.
Muslim Drag Queens (The Guardian)
The undercover lives of the Gay Muslim community are highlighted in this short film. It follows a regular night out with several cross-dressing men who want to live their lives free from persecution. The team follow the drag queens getting ready, see them stared down by hoteliers and bus drivers, and witness first-hand the abuse they endure. The intriguing work uncovers a world of 'performative protest bolstered by solidarity' and gay men finding their voices.
By Kieran Yates in a film directed by Marcus Plowright
Pakistan's Hidden Shame (Clover Films for Channel 4)
Pakistan's Hidden Shame aimed to open the world's eyes to the systematic abuse of street children, breaking the culture of national denial in the process. The documentary speaks to young victims some as young as eight and to several abusers who shockingly seem oblivious to their crimes and the children they target. It also highlights the important work of victim support groups in Pakistan and their battle to save children from the harrowing circle of abuse.
Produced by Jamie Doran & directed by Mohammed Naqvi
Revenge Porn (BBC Newsnight)
BBC Newsnight highlights how the fear of a backlash means victims of revenge porn in the Asian community are often too scared to report what has happened to them. The piece finds how men deliberately target women from families that follow codes of honour for financial gain and in some cases sexual grooming.  The team spoke to more than 100 women who had been affected (most of whom were too frightened to appear on camera, even anonymously) and contacted 40 agencies across the UK, working closely with the Henna Foundation and Bedfordshire police to expose this underground practice.
Special Correspondent Katie Razzall and produced by Yasminara Khan
Unreported World: Vaccination Wars (Quicksilver Media for Channel 4)
The team from Unreported World travel to the border areas of Pakistan where they meet a team of dedicated health workers, mainly women who are risking their lives to vaccinate children. The documentary explores why polio, which is easily preventable and has been eradicated from almost all countries, is on the rise in Pakistan. The team found that an anti-vaccination drive by hard-line religious groups meant that communities most in danger were refusing vaccinations for their children.
Reported by Nelufar Hedayat
The Asian Media  Awards  take place  on Thursday October  29 at the Hilton  Manchester Deansgate.
The University of Salford are premier sponsors and partners to the event include ITV, MediaCom & Press Association Training.
The 2015 AMA's will be supporting Plan UK's 'Because I am a Girl' Campaign.
The Asian Media Awards 2015 is supported by University of Salford, Hilton Manchester Deansgate, Carter Law Solicitors, Manchester Metropolitan University, Routes into Languages, Evoque Medical, Zac Dean, Ride Leasing, AMT Lawyers, ITV, MediaCom, Press Association Training, Supreme Dream Events, Cleartwo, Payal, Plan UK & Because I Am A Girl.
For further information please e-mail umbreen@asianmediaawards.com.