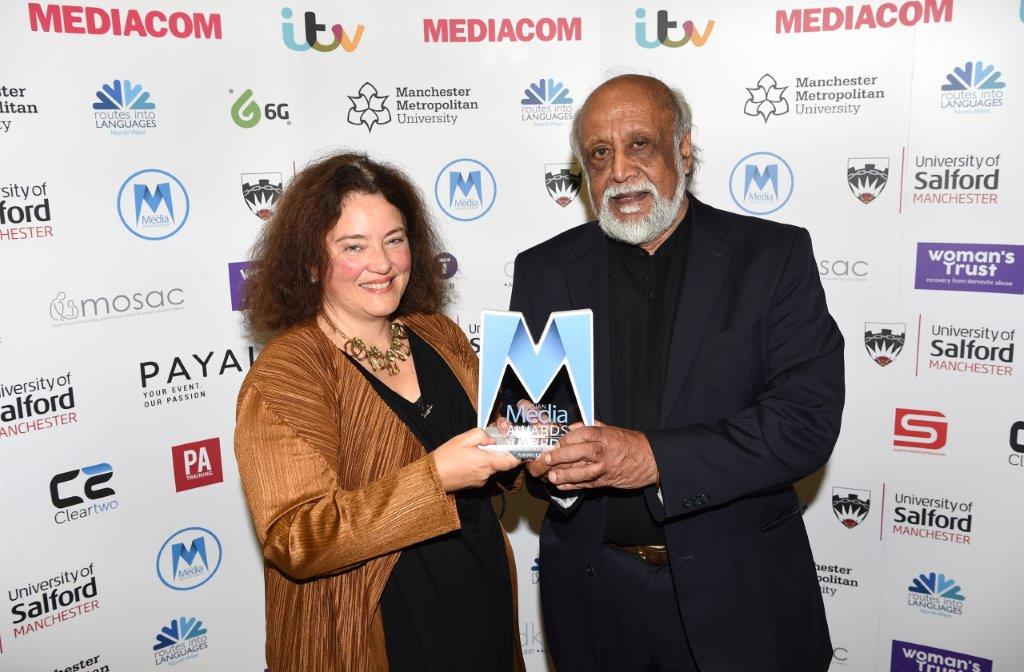 Anwar Hussein whose iconic images helped to define a generation was presented the 2019 Outstanding Contribution to Media honour at the Asian Media Awards.
The seventh Asian Media Awards ceremony (October 24) at the Hilton Manchester Deansgate was attended by journalists, bloggers and media professionals from across the UK.  The 2019 event was hosted by Dani Sinha of Channel 5 news.
Anwar's career spans six decades and he is the longest serving Royal photographer.
Born in Tanzania, Anwar was the fourth of five children born to a British civil servant and his wife working in colonial Africa.  Following in the footsteps of his brother, Anwar took up photography as a hobby.
When trouble erupted in the neighbouring Belgian Congo (later Zaire), Anwar was hired by the United Nations to document the plight of the refugees as they fled the civil insurrection.
Anwar Hussein said, "To receive this Outstanding Contribution to Media Award is a wonderful and unexpected honour.  I don't mind admitting that as a young Asian arriving in Britain in1963, life was a struggle, but I persevered in following my dreams. I still find it hard to believe my journey in the world of photojournalism.
"I've had the pleasure of photographing some amazing personalities including The Royal Family.  As a young boy growing up in Tanzania, the closest I got to The Queen was seeing her image on a postage stamp.   Decades later I've photographed her thousands of times and even had my own images of her used on stamps."
Penny Macbeth, Deputy Pro-Vice Chancellor for External Engagement and Partnerships for the Faculty of Arts & Humanities at the Manchester Metropolitan University presented the award.
In the seventies Anwar became a set photographer for classic movies such as 24 Hours of Le Mans, Papillon, Tommy and the Bond films.
Then he was ready for a new challenge and despite facing a level of hostility from some quarters, as he was seen as a music photographer, he went on to cover the British Royal Family.
Soon his pictures became a visual reportage of the scene – less restrictive and more natural.
He produced three books of his royal photographs long before the whisper of Diana Spencer fuelled the desire for pictures of the House of Windsor.
By the time of Prince Charles' engagement to Diana Spencer, Anwar was an official 'Royal photographer' documenting their daily activities. His photos of the 'Wedding of the Century' were published in newspapers and magazines worldwide and have appeared in books.
Prince Charles, Queen Elizabeth II, Princess Anne and the Queen Mother each used one of Anwar's pictures to grace their official Christmas cards.
Anwar's reportage earned him sessions with some of the world's most celebrated people – from Steve McQueen, Roger Moore, Mick Jagger and Muhammad Ali to Margaret Thatcher, Indira Gandhi, Jomo Kenyatta, Nelson Mandela and 4 American presidents. He has also published two books on Pope John Paul II.
---
This year's Asian Media Awards took place the Hilton Manchester Deansgate on Thursday October 24 2019.
The University of Salford were premier sponsors and partners to the event included ITV, MediaCom, M.E.N, & Press Association Training.
The official Charity Partners for 2019 were Mosac & Woman's Trust.
The event was also supported by Manchester Metropolitan University, Routes Into Languages North West, AMT Lawyers, DKR Accountants, 6G Internet, Hilton Manchester Deansgate, Supreme Dream Events, Payal Events & Cleartwo.