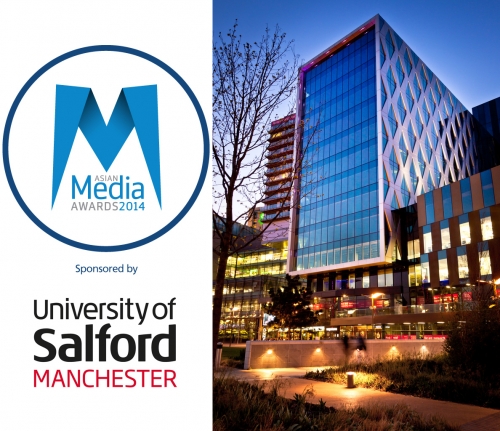 We are proud to announce that the University of Salford will be one of our premier sponsors for 2014.
Within the University, the School of Arts and Media offers a diverse range of nationally and 'internationally recognised' undergraduate and postgraduate degrees and is a leading provider of innovative, career-orientated media courses.
Based at MediaCityUK, the UK's largest media hub outside London, the School is at the heart of the digital media industry and enjoys impressive links with the BBC and ITV.
Professor Allan Walker, Dean of the School of Arts and Media, said:
"The University of Salford is delighted to be a partner of the Asian Media Awards 2014.
"Our partnership with the Asian Media Awards demonstrates our commitment to young and emerging media professionals.
"Our students have unrivalled opportunities to gain knowledge and experience working with national and regional broadcasters, independent production and digital media companies.
"We are delighted that in facilitating workshops and live-event work-experiences, the producers of the Asian Media Awards will provide our students with unprecedented access to experts working in important sectors of our global media landscape.
"The School of Arts and Media has a significant number of educational and industry partners across Asia.
"Our association with the Asian Media Awards is an important component of the University's strategy for internationalisation and will be central for developing networks with media professionals from South Asia and beyond.
"While we are committed to developing transnational relationships, we also recognise and are seeking to rectify the under-representation of our local Asian communities within the media industries.
"We actively support and encourage the industry's BAME recruitment and representation initiatives and we are pleased to sponsor the Asian Media Awards as part of our ongoing commitment to widening participation in higher education."
Umbreen Ali, Media Manager said: "The awards are keen to nurture new talent as well as celebrate the innovative work of those working at the top of their field.
"A partnership between the University of Salford and the Asian Media Awards will aim to highlight the groundbreaking work of some of these organisations and professionals.
"It will also act as a platform for emerging talent.
"We are delighted that the University is backing both our finalists announcement in London and the ceremony in Manchester."