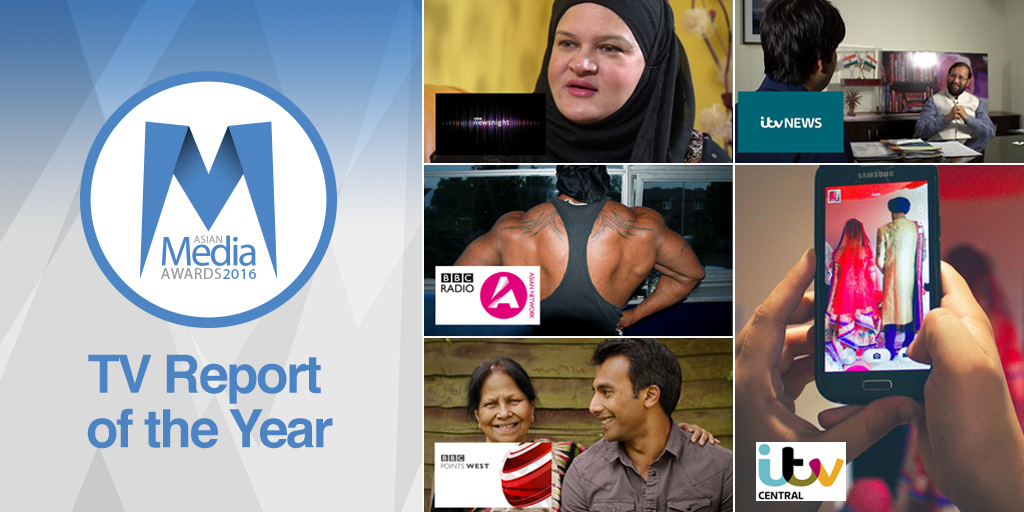 The Asian Media Awards shortlist in 2016 features five TV reports aiming to dispel myths, raise awareness and investigate controversial issues. 
The Asian Women Stopped from Becoming Councillors
BBC Newsnight – Reported by Katie Razzall with producer Yasminara Khan
This two part report in association with the charity Muslim Women's Network UK helped to highlight the practices of the hidden biraderi, a male kinship system that had blocked Asian women from political office within local Labour groups for many years. The investigation highlighted personal and professional abuse that had allegedly been allowed to go unchecked by the Labour party and local communities for decades.
Bigorexia
BBC Asian Network – Reported by Athar Ahmad with producer Divya Talwar
Bigorexia: Never Buff Enough was a unique piece of journalism, challenging perceptions of mental health and shedding light on a little known anxiety disorder – muscle dysmorphia – or bigorexia – for the first time. The investigation found 1 in 10 men training in British gyms were living with it. It is sometimes compared to anorexia in reverse – where men continuously view themselves as skinny, no matter how muscular they become.
Climate in Crisis
ITV News – Reported by Alok Jha
Ahead of a crucial gathering of 190 world leaders in Paris last December for emergency climate talks, ITV News produced a special series in India with the aim of guiding viewers through the most important issues at stake at the Paris gathering. Each of the three films from India by Science Correspondent Alok Jha highlighted one of the biggest negotiating points in the Paris COP21 meeting and analysed how likely it would be that the world would find common ground.
Mixed Faith Marriage Protests
ITV Central – Reported by Balvinder Sidhu
Over a period of several months reporter Balvinder Sidhu carried out an exclusive investigation into protests over mixed-faith marriages taking place within gurdwaras. The investigation centred on a couple who said they were forced to cancel their gurdwara wedding the day before. Although not actively encouraged, weddings of this nature have been widely accepted and endorsed by British Sikhs for many decades.
Transplants and Trafficking
BBC West and BBC One – Reported by Sabet Choudhury with producer Ben White
Transplants and Trafficking was a current affairs piece produced by BBC West that combined an intensely personal story with an international scandal. The report followed Bangladesh born BBC Bristol journalist Sabet Choudhury through the process of donating a kidney to his sick mother, but at the heart of the piece is the reality that if you are black or Asian in Britain you are far more likely to die waiting for a kidney than a white person.
---
Winners and recipients of AMA special awards will be announced at the Hilton Manchester Deansgate on Thursday 27 October.
Click here to view the full 2016 shortlist.
Previous AMA recipients have included, amongst others, Ranvir Singh, Krishnan Guru-Murthy, Mehdi Hasan, Waris Hussein and Nina Wadia.
The University of Salford are premier sponsors to the 2016 events and partners include ITV, MediaCom, Press Association Training and the Manchester Evening News.
The official charity partners for 2016 are The Asian Circle and Oxfam.
The Asian Media Awards 2016 are supported by Hilton Manchester Deansgate, Manchester Metropolitan University, Routes into Languages, AMT Lawyers, Espoke Living, Cleartwo & Payal.
For further information please e-mail umbreen@asianmediaawards.com.