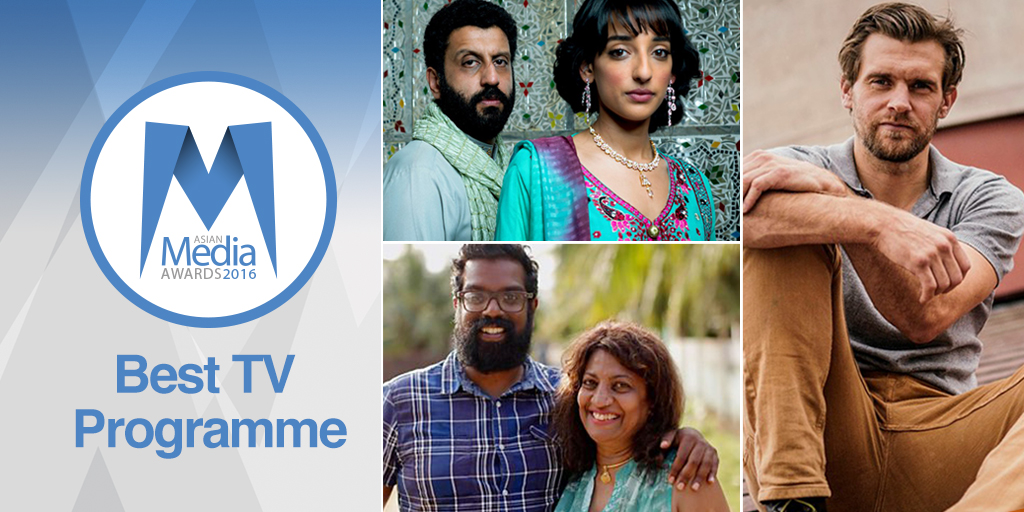 This year's Best TV Programme category is dominated by three productions that have challenged specific stereotypes through drama or comedy or helped to highlight issues within the community.
Asian Provocateur
Comedian Romesh Ranganathan is sent by his mother, Shanthi on a ramshackle odyssey around his parents' homeland of Sri Lanka in an attempt to connect him with his roots. The six-part series sees Romesh meet a whole host of people as he travels across the country. A follow-up to the series this year will see Romesh and mum Shanthi visit extended family across the continents and be joined by some of the characters Romesh met in the first series. A follow-up to the series this year will see Romesh and mum Shanthi visit the US.
Murdered by My Father
Murdered By My Father is the story of the 'honour' killing of a 16-year-old girl by her father, an exploration of how family love and duty turned to violence, and murder, in a suburban British home. Written by Vinay Patel this was a follow-up to the BAFTA-winning drama Murdered By My Boyfriend that investigated the act of honour-killing. The drama starred Adeel Akhtar and Kiran Sonia Sawar.
Welcome to the Mosque
In this eye-opening and touching documentary film-maker Robb Leech gains unprecedented access to London's busiest Muslim community. Inside East London Mosque, he is guided through ablutions and Friday prayers, joins lessons in the Mosque's school, and is shown how to find a Muslim wife. Welcome to the Mosque was directed by Robb Leech. It was produced by GRACE Productions in association with Vagabond Films.
---
Winners and recipients of AMA special awards will be announced at the Hilton Manchester Deansgate on Thursday 27 October.
Click here to view the full 2016 shortlist.
Previous AMA recipients have included, amongst others, Ranvir Singh, Krishnan Guru-Murthy, Mehdi Hasan, Waris Hussein and Nina Wadia.
The University of Salford are premier sponsors to the 2016 events and partners include ITV, MediaCom, Press Association Training and the Manchester Evening News.
The official charity partners for 2016 are The Asian Circle and Oxfam.
The Asian Media Awards 2016 are supported by Hilton Manchester Deansgate, Manchester Metropolitan University, Routes into Languages, AMT Lawyers, Espoke Living, Cleartwo & Payal.
For further information please e-mail umbreen@asianmediaawards.com.