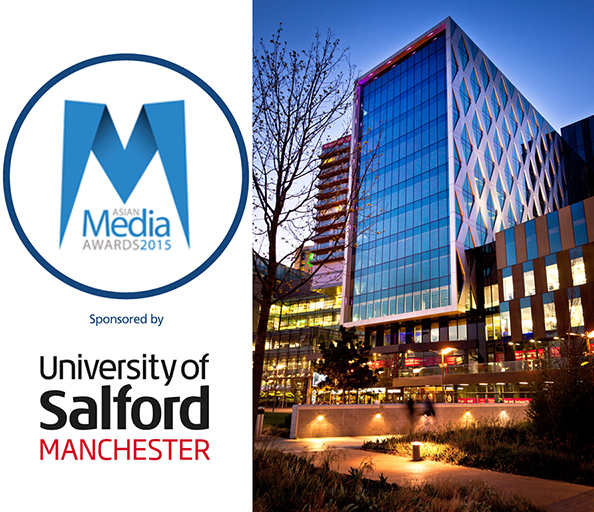 The University of Salford have been named a premier sponsor at this year's Asian Media Awards.
Following on from the success of the Asian Media Awards since it was launched, the University said they were keen to support an initiative which is aiming to inspire the next generation of media professionals.
Professor Allan Walker, Dean of the School of Arts and Media at University of Salford said, "Last year the University of Salford was delighted to become a partner of the Asian Media Awards. 
"Within the School of Arts and Media we are seeking to balance our international outlook with the needs of our local communities. While we are committed to developing transnational relationships, we are also attuned to debates around diversity and representation closer to home.
"As the Asian Media Awards highlights, there is a wealth of talented people working in the media industries from the UK's Asian communities.  
"Our sponsorship of the awards for Best Young Journalist and Best TV Show, won by Layla Haidrani and Burka Avenger, respectively, confirmed what University of Salford staff already knew: there is an exciting and confident generation of Asian talent marrying social concerns with the new and evolving modes of digital journalism and broadcast media.
"The depth and breadth of those nominated for awards, across all categories, was tremendously impressive: each had genuine merit.
"With the Asian Media Awards, the University of Salford is developing widening participation programmes and increasing contacts with local communities and schools to encourage the next generation of British-Asian talent.
 
"For those already studying at the University, our aim is to help our students achieve their potential and we are delighted that, in facilitating workshops and live-event work-experience, the producers of the Asian Media Awards provided and continue to provide our students with unprecedented access to experts working in important sectors of our global media landscape."
 
Umbreen Ali, Media Manager at the awards said, "We are delighted that the University of Salford will be supporting the third Asian Media Awards.
 
"There is a real need for more young people to follow careers in the wide array of media professions and we are honoured to be partnering with the University of Salford on a series of projects for throughout the year."
A full list of all categories including special awards can be viewed at http://www.asianmediaawards.com/categories.
The deadline for all nominations for this year's awards is 4pm Friday August 28 2015.
Previous recipients of an Asian Media Award include Krishnan Guru-Murthy, Waris Hussein, Nina Wadia and Anita Anand.
 
The University of Salford will be premier sponsors for the 2015 ceremony and the shortlist announcement. Partners also include ITV and MediaCom. Charity partners for 2015 will be Plan UK's 'I am a Girl Campaign.'
For further information please e-mail umbreen@asianmediaawards.com.